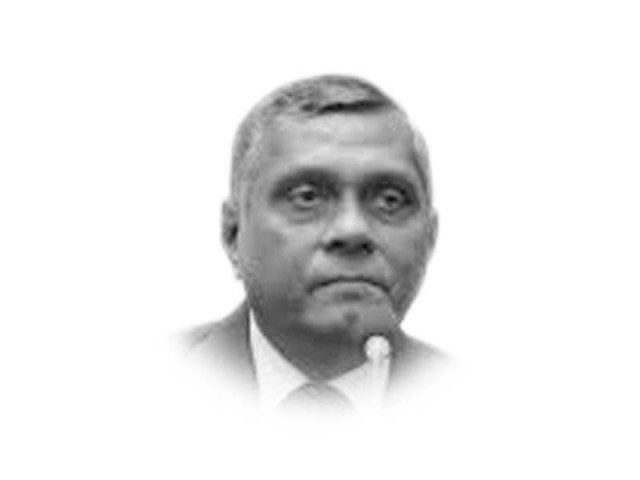 ---
"We have not lost anything and will not lose anything," stressed Russian President Vladimir Putin speaking before an economic forum in Vladivostok on September 7.
Russia's confidence at the time of its attack on Ukraine in February this year is fast eroding with each passing day which is reflected in Putin's announcement for partial mobilisation of forces. The offensive launched by Ukrainian forces on September 6 in north-eastern Kharkiv province is a case in point. Along with that, Ukrainian offensive in southern Kherson province launched on August 29 further demoralised Russian forces.
Two-pronged offensive against Russian forces by the Ukrainian military is now taking the war to its logical end. After gaining victory in the formative phase of the war, Moscow is bogged down because of sanctions imposed by the West and calls made by Ukrainian leaders and the US to declare Russia a 'pariah state'. Serious human rights violations allegedly committed by Russian forces in Ukrainian areas under its occupation became another source of embarrassment for Moscow. According to the reports, mass graves were discovered in the formerly Russian occupied city of Izyun. Calls to establish an international tribunal for war crimes against Russian forces have been made by Czech Republic's Foreign Minister Jan Lipavsky: "In the 21st century, such attacks against the civilian population are unthinkable and abhorrent."
It has been seven months since Russia attacked Ukraine, destabilizing the world order and causing a severe crisis of fuel and food. The West, particularly the US, provided several billion dollars of weapons to Ukraine to transform the country into a 'bloody wound' of Russia. Millions of people in Ukraine were displaced, leading to a human catastrophe. Measures for diplomatic, political and economic isolation of Russia by the West however failed to topple Putin.
A report entitled 'Breakthrough" in the September 10, 2022 issue of The Economist (London) stated: "The breakthrough is a significant moment after months of grinding advances by Russia in eastern Donbas region. Russian army now faces multiple concurrent threats spread across 500 km. Ukraine's offensive are clearly spoiling Mr. Putin's plans. He was hoping to demonstrate results from his special military operation by the end of summer." Before the advent of winter, Ukraine and its Western allies want to reverse Russian military advances so that Moscow is forced to withdraw its military. Putin's 'game plan' of holding referendum in areas occupied by Russian forces will not yield positive results because of legal complications.
In the meantime, Russia is confident that its retaliatory measures to combat western sanctions will yield positive results during winters. Stopping the supply of gas to its European users will bite millions of people who will demand either relief from harsh winter or easing sanctions against Moscow. In its editorial 'How to win the long war' published in the July 2 issue, The Economist (London) argued: "If Russia starts to lose ground on the battlefield, dissent and infighting may spread in the Kremlin. Western intelligence services believe that Mr. Putin is being kept in dark by his subordinates. The West can raise the cost to Russia of a long war by continuing to press sanctions, which threaten harm to Russia's economy."
When the Russo-Ukrainian war began in late February, NATO was confident that by providing superior armory it can turn Ukraine into a graveyard of Russian forces. To a large extent, they have been successful in their strategic calculation because in the last seven months, thousands of dead bodies of Russian military tend to enrage the people of Russia about a senseless war which is earning a bad name for their country by causing enormous losses on the ground.
The price of the seven-month-long war is enormous because there is no letup in military engagements on the ground and psychological warfare going on from both sides. The two-pronged threat of unending Russo-Ukrainian war needs to be analysed in some detail.
First, armed conflict in Ukraine is major test case after the end of the Cold War because a permanent member of the UN Security Council has occupied a part of a territory of another member of the UN and is trying to get away with its illegal act. The SCO meeting recently held in the Uzbek city of Samarkand reflected no regrets by President Putin despite the cold shoulder given by China and India by not endorsing Moscow's belligerent actions against a sovereign state. Yet deep down, crisis in the Russian regime cannot be overlooked as the opposition against Putin is growing. While the sanctions imposed by the West are hurting the Russian economy, there are also calls for declaring Russia a 'pariah state' due to its military invasion of Ukraine and serious rights violations that are tantamount to war crimes. Superior military technology provided by NATO can cause a paradigm shift in the Russo-Ukrainian war. In that case, the very expectation of Russia and China to provide an alternate world order may not yield positive results and may sustain the Western tutelage on global affairs.
Second, the threat of serious energy and food crisis in the wake of the war will not just have serious implications in Europe but in developing countries too. The winter of 2022-23 in Europe will more or less be comparable to the winter of 1973-74 following the oil embargo imposed by the Arab oil producing countries on pro-Israeli European states. But, 50 years down the road, things have changed as the US cannot bully Russia to refrain from gas embargo on Europe as it had done against the Gulf countries by augmenting its naval-military presence in the Persian Gulf. Russia is a permanent member of the UN Security Council and a major military power with huge nuclear arsenal and cannot be brow-beaten as was done by the US in the Persian Gulf five decades ago. Putin's threat of using nuclear weapons in case its interests in Ukraine are jeopardised is tantamount to the warning of a Third World War.
The only option left for the West to salvage Europe from the devastation of gas embargo is to strive for a regime change in Moscow. As mentioned in The Economist (London) editorial of September 17, 2022 titled 'Getting the job done', "the West should try to drive a wedge between the regime and the Russian people." Yet what is the guarantee that a Putin's successor would not be a hardcore Russian nationalist and expansionist? Economic meltdown of Russia as a result of sanctions imposed by the West is another possibility, but Moscow's nexus with China and its continuous trade with India, Turkey, Iran and other countries despite sanctions exposes the myth of Russia's economic collapse.
Published in The Express Tribune, September 25th, 2022.
Like Opinion & Editorial on Facebook, follow @ETOpEd on Twitter to receive all updates on all our daily pieces.
COMMENTS (1)
Comments are moderated and generally will be posted if they are on-topic and not abusive.
For more information, please see our Comments FAQ