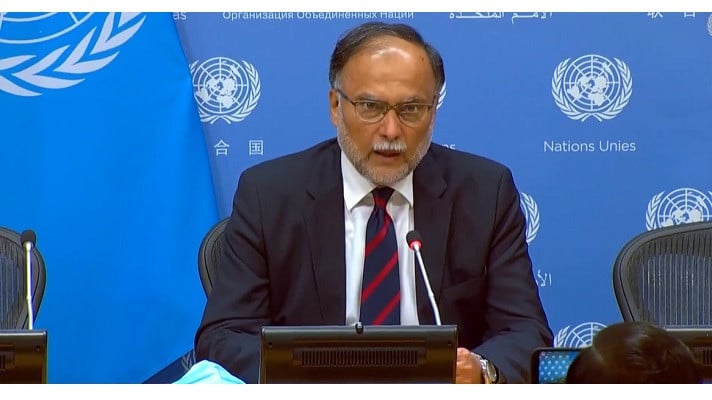 ---
ISLAMABAD:
Federal Minister for Planning Ahsan Iqbal on Friday claimed, "Imran does not want the world to help Pakistan".
"Imran is continuously doing politics of hate and he is not feeling the pain of Pakistan," he told a press conference, adding that he is receiving foreign funding for destabilizing Pakistan.
Blaming Imran for the ongoing inflation for signing agreements with IMF, the minister said that PTI leader entangled the economy of Pakistan in crises.
Explaining the aftermath of floods, he said that two provinces, Sindh and Balochistan, are the hardest hit, adding, "There is water everywhere in Sindh."
He said, "Armed forces, along with civil departments, are participating in relief activities," adding that Imran is using the word 'coward' for them.
He said the nation is made to suffer for Imran's departure. This is the time to serve people and not to do politics, he added.
Pakistan is going through the catastrophe of climate change without contributing much to the causes, he said while claiming that the international community is empathizing with Pakistan.
Coming back to Imran, he said that PTI Chairman should better help flood victims than destabilizing the capital.
COMMENTS
Comments are moderated and generally will be posted if they are on-topic and not abusive.
For more information, please see our Comments FAQ