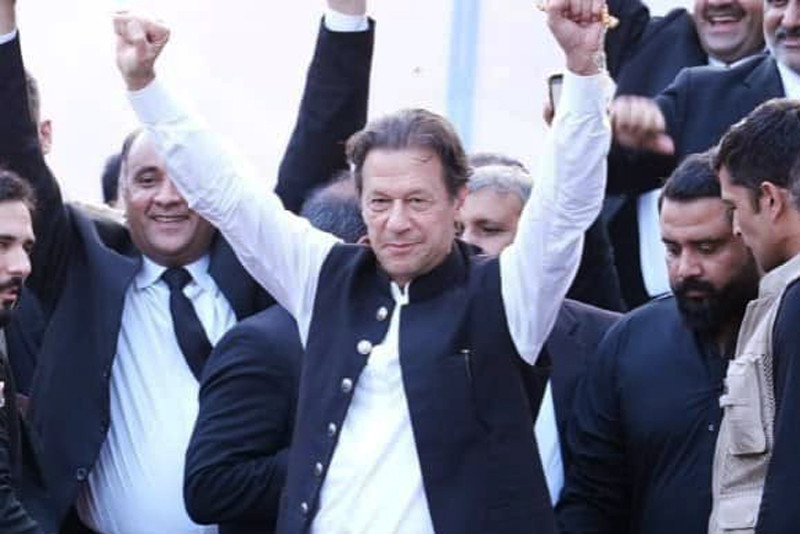 ---
LAHORE:
PTI chairman and deposed premier Imran Khan on Wednesday announced that his party's movement for "Haqeeqi Azaadi" – 'real freedom' - would begin from September 24 and he sought the participation of the country's legal fraternity in it.
Addressing the All Pakistan Lawyers Convention in Lahore, the PTI chief highlighted that the country was fast heading towards civil unrest.
He added that the International Monetary Fund (IMF) and World Bank had already warned of a Sri Lanka-like situation in Pakistan if the country was not pulled out from the current economic quagmire created by the "imported" government.
Imran asked lawyers to promise him that they would take to the streets on his call.
He said there was a great responsibility on the shoulders of the lawyers' community for enforcement of the rule of law in the country.
"Right now, there is a law of jungle in the country. Law enforcement agencies, which are responsible for enforcing the law, are breaking it," he maintained.
"The 'imported' rulers are using state machinery to silence journalists, intellectuals, social media activists and other opposing voices just to save their looted wealth," he added.
The PTI chief claimed that he had never witnessed such a situation in any democratic country in the world where decisions about the country's most important appointment – the army chief – and national security were being made in consultation with an absconder and convict, referring to PML-N supremo and former three-time premier Nawaz Sharif.
"I have never witnessed that common citizens are being threatened by phone calls from unknown numbers. This group is operating and roaming around freely," he added.
Imran reiterated that there was a need for threatening those who dared to intimidate others as freedom of speech was the fundamental right of every citizen of Pakistan.
He claimed that his aide Shahbaz Gill was brutally tortured in custody to set an example for others.
The ex-premier added that Gill was an assistant professor at an American university and he is neither a terrorist nor a hardened criminal but was thrashed inhumanly.
"It cannot be possible in any civilised state [the alleged treatment meted out to Gill] but it is in Pakistan because there is no rule of law," he maintained.
The PTI chief claimed that there were two parallel systems of justice for the influential and the weak.
"Fake cases are being registered against [political] opponents," he added.
He claimed that the food security of the country was under threat.
"Rupee has depreciated 33% since the 'imported' rulers came into power, while the wealth of foreign rulers has increased at the same rate," the PTI chief maintained.
"Inflation and unemployment are on the rise and it has virtually become impossible for common citizens to make both ends meet," he added.
Imran said the 'crime minister', a term used for Prime Minister Shehbaz Sharif, had started begging from everyone for the victims of the floods and nobody was willing to give anything to him.
Criticising PM Shehbaz for "begging" from UN Secretary General António Guterres, he said it was shameful that the premier had to give assurances to him that his donations would be used transparently for the welfare of the flood victims.
"Everyone knows that 60% members of the 'imported' government are out on bail in corruption cases," he noted.
"They had managed to acquire a second NRO [amnesty] and secured their looted wealth by amending the accountability law," he added.
The PTI chief claimed that the current rulers had done nothing for the common citizens except to save their looted wealth.
He added that no one would invest in Pakistan if there was no rule of law in the country.
He asked lawyers and the people of Pakistan not to vote for any leader, whose wealth and assets were abroad.
"There is a great conflict of interest when their wealth is in foreign countries. Can you name a single leader in the world whose assets are in foreign countries?" he questioned.
The PTI chief said he guaranteed the nation that overseas Pakistanis could change the fate of the country by investing in their homeland.
But for that to happen, we have to ensure the rule of law in Pakistan," he underscored.
Earlier during a day-long visit to Lahore, Imran also met with Punjab Chief Minister Chaudhry Parvez Elahi and presided over a meeting of the provincial cabinet and party leaders.
He was briefed about the current political situation in Punjab and possibility of a no-confidence motion against the provincial government.
COMMENTS
Comments are moderated and generally will be posted if they are on-topic and not abusive.
For more information, please see our Comments FAQ