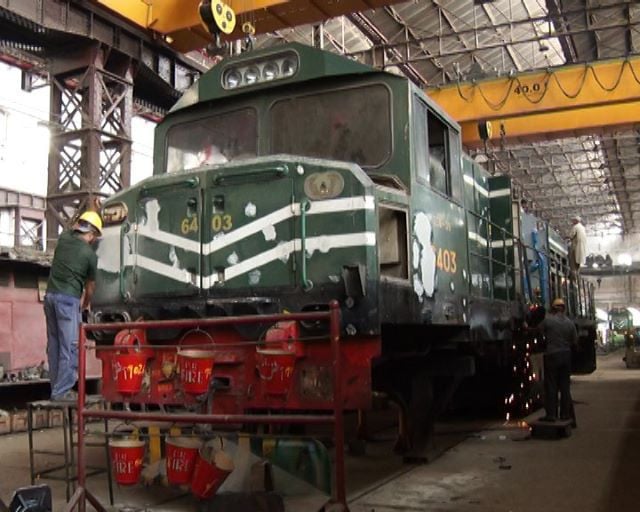 ---
LAHORE:
Pakistan Railways (PR) and Chinese mechanical engineers are in the process of manufacturing 34 locomotive engines worth Rs1.5 billion at the Mughalpura railway workshop in Lahore.
Instead of importing the engines, which would have come at a cost of Rs15 billion, around three locomotives are being manufactured each month until all of them are set to be rolled out by next year, sources said.
The engines will be in service on the Lahore, Rawalpindi, Karachi, and Quetta sections.
It is estimated that the engines can be used for freight and passenger trains for the next 11 years.
According to the sources, all these locomotive engines were imported from China in 2014 and a contract was signed with the Chinese company for the maintenance of these engines in 2017.
However, due to some reasons, the project was delayed. "But now that the situation has improved, work on the restoration of these engines has started in right earnest".
They said by August 2023, a total of 34 locomotives will become fully part of the train operations.
"PR mechanical engineers and Chinese engineers are working together with the workshop staff in shifts," the sources shared and said that the workers are equipped with modern technology which is low-cost and environment-friendly.
In this regard, General Manager Maintenance and Service Salman Sadiq Sheikh said that the railway engineers in the workshop are preparing cost-effective locomotive engines without exceeding the limits of resources.
He pointed out that the special thing about these engines was that modern technology was being utilised to prepare them which would mean that they would create less pollution.
"In the future, the employees at the locomotive workshop will also acquire expertise in the maintenance of these engines, which will be better for Pakistan Railways," he added.
COMMENTS
Comments are moderated and generally will be posted if they are on-topic and not abusive.
For more information, please see our Comments FAQ