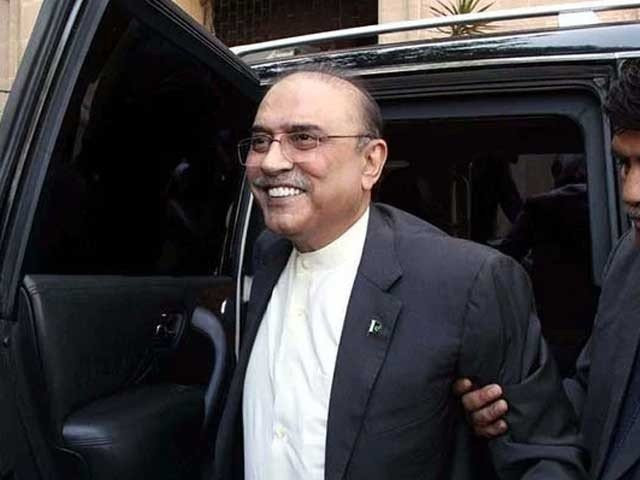 ---
ISLAMABAD:
The National Accountability Bureau (NAB) would examine old cases against PPP Co-Chairperson Asif Ali Zardari under the amended law.
Ursus Tractors, ARY Gold, SGS-Cotecna and Polo Ground cases would also be reviewed under the changed National Accountability Ordinance (NAO).
The Islamabad High Court on Tuesday gave the anti-graft body up till October 20 to review the cases against Zardari's acquittal in 25-year-old cases under the new law.
A two-judge bench headed by IHC Chief Justice Athar Minallah conducted the hearing.
NAB told the court that its prosecutor general would decide the future of the cases in a week.
Giving respite to NAB, the court adjourned the proceedings until October 20.
Besides, NAB had sought the opinion of the law ministry on the old cases.
However, the ministry had declined to comment and asked NAB to decide on its own.
On Tuesday, the IHC also adjourned the hearing on a petition challenging the admissibility of Park Lane graft reference against former president Zardari.
The case was adjourned without further proceeding because of the absence of the petitioner's lawyer.
Associate lawyer Asad Abbasi requested the court to adjourn the case till the next date.
Also read: NAB law tweaks leave courts bereft of jurisdiction
At this, the hearing of the case was adjourned till October 27.
The former president had challenged the Park Lane corruption reference on the basis of the fresh amendments to the NAB law. The accountability court had already dismissed the petition of the former president.
In January this year, an accountability court in Islamabad had granted bail to the PPP co-chairperson on medical grounds in the New York property case.
Judge Muhammad Bashir presided over the hearing against the former president and issued a detailed verdict.
"Asif Zardari has been granted permanent bail in the case due to health issues whereas the New York property case against him is under investigation and NAB has yet to gather evidence against him in the case," the written verdict stated.
It added that the anti-graft body could apply for revocation of bail on the basis of solid evidence.
"NAB received asset complaints against Asif Zardari in 2018 and 2019. It received the JIT report in April 2019. Asif Zardari was released in December 2019 after being arrested in the second case," the court said.
(With input from APP)
COMMENTS
Comments are moderated and generally will be posted if they are on-topic and not abusive.
For more information, please see our Comments FAQ