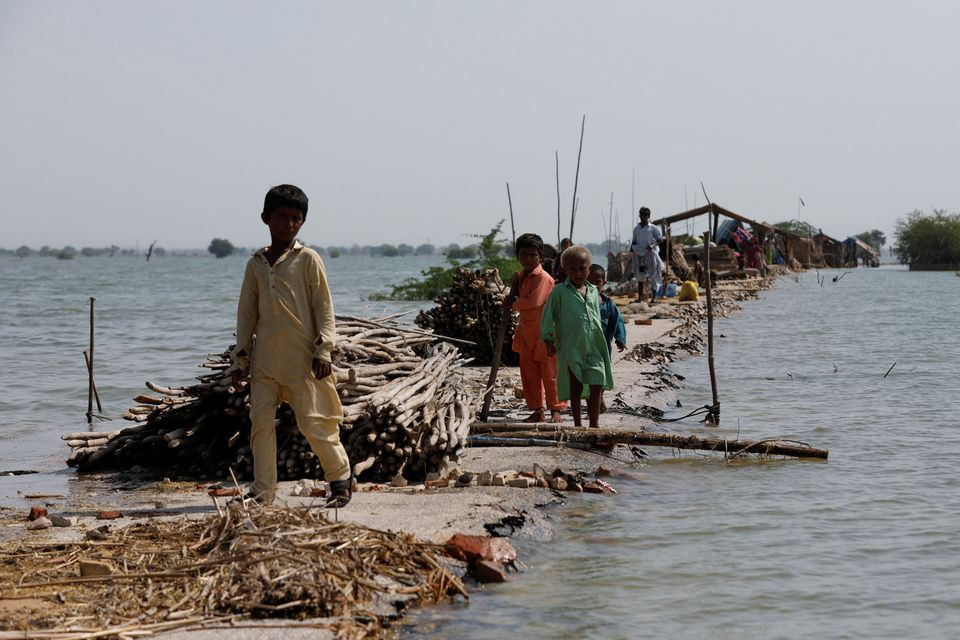 ---
ISLAMABAD:
The World Health Organisation (WHO) has expressed its concern about an impending 'second disaster' of water-borne diseases waiting to spread in the country, particularly in the flood-hit regions of Sindh.
WHO Director-General Tedros Adhanom Ghebreyesus issued a statement late on Saturday on Twitter and called for donations to "save lives and prevent more suffering" as a potential "wave of diseases and deaths" awaited the country already trying to grapple with the destruction caused by the calamity.
The chief of the international public health body further highlighted how the consumption of contaminated water in flood-hit areas was leading to a surge in diseases including cholera, malaria, dengue and diarrhoea.
"Health centres have been flooded, their supplies damaged, and people have moved away from home, which makes it harder for them to access their normal health services," he wrote.
Read Waterborne diseases may kill more people than floods in Pakistan
"All this means more unsafe births, more untreated diabetes or heart disease, and more children missing vaccination, to name but a few of the impacts on health," he added.
Ghebreyesus pointed out that swift action against the impending disaster could significantly reduce the risk.
"Health workers in Pakistan are stretched to the limit as they do all they can to deliver critical services amid the destruction," he said, adding that the WHO would be setting up health facilities and medical camps nationwide.
"Nearly 2,000 health facilities have been fully or partially damaged," he added.
He said the WHO had provided water purification kits and oral rehydration salts to manage diarrhoeal diseases.
Furthermore, he stated that the organisation would also be increasing the surveillance of diseases in the region to prevent outbreaks.
"[The] WHO immediately released $10 million from the WHO Contingency Fund for Emergencies which enabled us to deliver essential medicines and other supplies to the country," he added.
He also thanked donors for their "prompt response" to the United Nations' flash appeal.
"We continue to assess the scale of the crisis and will issue a revised appeal shortly," he said.
On Friday, Prime Minister Shehbaz Sharif addressed the Shanghai Cooperation Organisation (SCO) summit held in Samarkand, Uzbekistan and brought to light the many threats that were escalating in Pakistan in the aftermath of the wide-scale flooding.
"Stagnant water is giving rise to water-borne diseases. Children getting malaria and diarrhoea … all kinds of diseases," he said.
"Millions of people are living under the open sky," the prime minister added.
Read More Flood death toll reaches 1,545 after 37 more perish
A total of 2.3 million patients have been treated since July 1 in the field and mobile hospitals set up in the flooded region of Sindh, which has been hit hardest by the calamity.
Both the government and UN Secretary-General Antonio Guterres have blamed climate change for the extreme weather that led to the flooding, which submerged nearly a third of the country.
Sindh's Manchhar Lake — the largest freshwater lake in the country — has witnessed a surge in its water level in recent days as floodwaters from the north and hill torrents from Balochistan flow southwards, leaving behind a trail of deaths and destruction.
Hundreds of thousands of people have been made homeless by flooding in Sindh, with many sleeping by the side of elevated highways to protect themselves from the water.
COMMENTS
Comments are moderated and generally will be posted if they are on-topic and not abusive.
For more information, please see our Comments FAQ