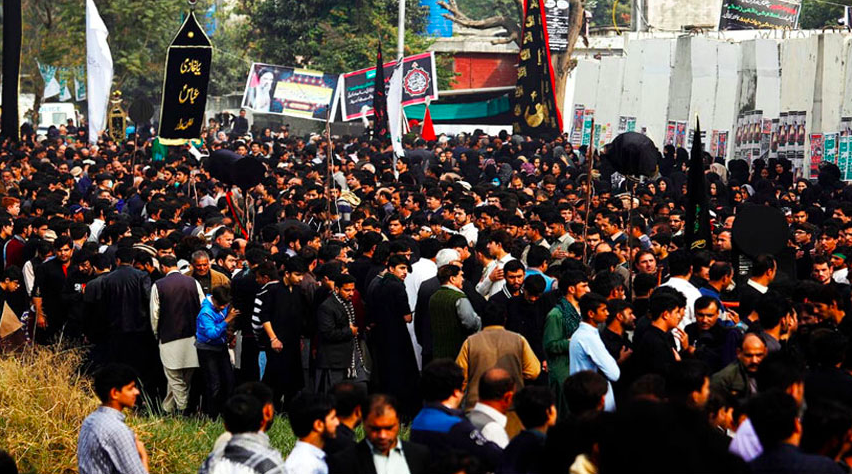 ---
The Chehlum of Hazrat Imam Hussain (RA) and his devoted companions is being observed on Saturday with religious reverence to remember their supreme sacrifices for the cause of Islam.
Mourning processions will take place in various cities and towns across the country to pay homage to the martyrs of Karbala.
Rawalpindi
In Rawalpindi, the main procession will start from Imambargah Ashiq Hussain and end at the Markazi Imam Bargah Qadeem.
Around 4,000 Rawalpindi police personnel have been deployed for the procession's security.
Read: Army will provide security for Chelum
Walk-through gates have been installed at all the entrances of the Rawalpindi procession while connecting roads, streets, and markets adjacent to the procession route have been sealed.
Mobile services will be suspended in different areas of Rawalpindi and will be restored after the procession ends.
Lahore
In Lahore, the main procession of the Chehlum of Karbala martyrs will start from Haveli Alif Shah and end at Karbala Gamay Shah through the designated routes.
A large number of people participate in the main procession and a three-layer security plan has been formulated.
More than 42,000 security personnel, officers and volunteers have been deployed for the security of 301 processions and 530 congregations across the province. The Punjab IG said that security arrangements are being monitored using'"Safe City cameras'.
CCPO Lahore added that pillion riding, display of weapons and aerial firing are prohibited in the city. Mobile services will be partially suspended in certain areas of the city as a security measure.
The federal government has also authorised the deployment of Pakistan Army troops and other security forces to maintain law and order across the country during the Chehlum.
The approval was given at the request of all four provinces, Gilgit-Baltistan and Azad Jammu and Kashmir under Article 245 of the Constitution.
Interior Minister Rana Sanaullah said that Rangers, the Frontier Constabulary and other armed forces will also assist the civilian administration.
He added that all processions and security matters will be monitored from the central control room established at the Ministry of Interior.
Special measures are being taken for the security of Chehlum processions, routes and Imambargahs.
The district administrations and law enforcement agencies have finalized all necessary arrangements to facilitate the mourners.
COMMENTS
Comments are moderated and generally will be posted if they are on-topic and not abusive.
For more information, please see our Comments FAQ