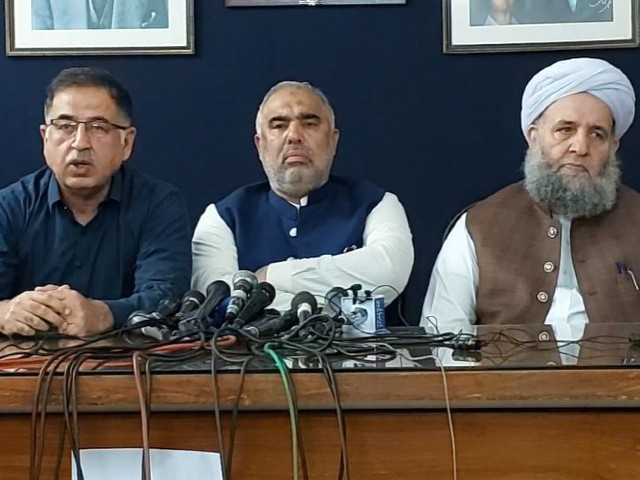 ---
ISLAMABAD:
The political rhetoric on Wednesday took on more acrimonious tonnes after the Pakistan Tehreek-e-Insaf blasted the government for drawing battle lines over religion against Imran Khan through a "systematic campaign".
Leaders of the PTI laced in the PML-N-led coalition government for weaponising religion to instil and spread hatred against party chief.
Simarly, the coalition government — mainly PML-N — also came under fire on Twitter for trying to turn Imran Khan into a "boogeyman" for the masses by "spewing venomous" propaganda against him. They also expressed shock at the airing of such incendiary speeches on national television channels.
"PML-N is running an organised and planned campaign to make Imran Khan controversial [for the people]," former religious affairs minister Noorul Haq Qadri said at a press conference in Islamabad, alongside fellow PTI leaders Asad Qaiser and Iftikhar Durrani.
The reaction came hours after PML-N leader Javed Latif, in a press conference, accused the PTI chief of "attacking the basic principles of Islam" by "supporting" the Ahmediyya community during his tenure.
"When Imran made the Naya Pakistan, units of Qadianis became active in Karachi […] Did Imran not give interviews to the foreign media in which he said that Qadianis will be given religious freedom," Latif said.
He also urged the Council of Islamic Ideology (CII) to summon Imran on the matter.
Condemning Latif's remarks, Qadri stressed that when he joined Imran Khan, it was not just for his political ideology but also his religious ideology.
He said that the "war being waged by the government was very dangerous as it would create divisions and violence". "These are the people who want to spread hatred and chaos in the land," he added.
Durrani went on to question the role of PEMRA in the whole development, saying that it had pressurised the TV networks into boycotting Imran's telethon for the flood-hit people, but it failed to censor the spread of religious hatred by Javed Latif.
Read Imran appears before JIT over terrorism charges
He urged the media channels to not air such press conferences as of Javed Latif.
Former National Assembly speaker Asad Qaiser said that Latif's statements were an attempt at fanning religious hatred among the people.
"PTI is the only party which signifies unity today because it has members from all religious sects and cultures," he said.
"Today, we are here to tell you that when we were in the government, and even today, you have seen our work for upholding Islam and the Prophet (PBUH)," Qaiser added.
Meanwhile, former federal minister Iftikhar Durrani said that the government was violating the National Action Plan and Constitution by spreading "religious hatred".
Rights activists raise alarms
Meanwhile, the netizens also sounded alarms over the "new low", demanding action against Javed Latif.
Mir Muhammad Ali Khan, renowned author and investment banker, tagged Punjab's minister for home and Punjab and wrote: "You are the Interior Minister of Punjab. Javed Latif is a Punjab resident. Law allows you to arrest anyone spreading religious bigotry and hatred."
Adil Raja, International Human Rights Foundation's (IHRF) permanent representative in Pakistan, said PTV News' action of airing religiously motivated hate speech "for political purposes is highly condemnable and is against the National Action Plan".
He said an FIR should be lodged against all culprits including MNA Javed Latif for using "religious bigotry card".
COMMENTS (1)
Comments are moderated and generally will be posted if they are on-topic and not abusive.
For more information, please see our Comments FAQ