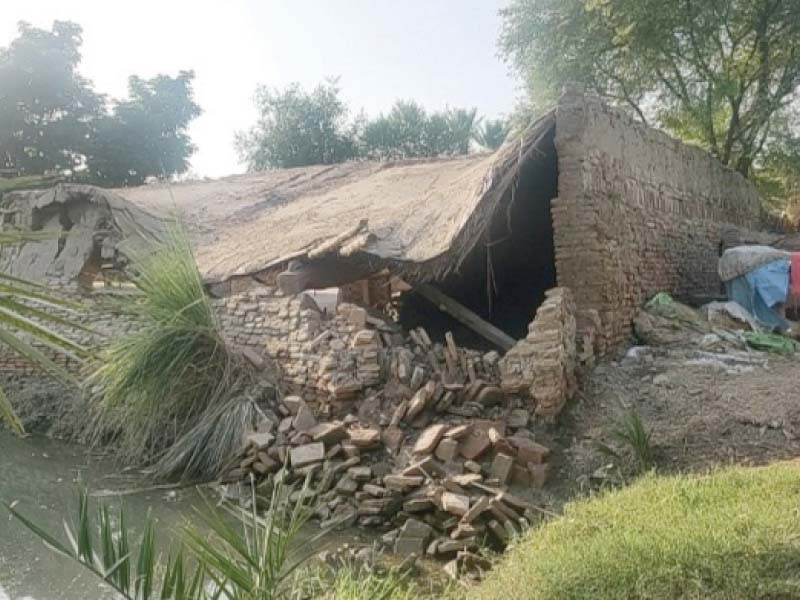 ---
LAYYAH:
Floodwater from the Indus river has wreaked havoc in the low-lying belt of the district spread over about 80 kilometres
The flood affected 82 low-lying villages of the riverine belt.
Standing crops of sesame seed, maize, rice, fodder, vegetables and sugarcane have been flooded.
A resident of Shah Wala, Syed Akbar Naqvi, told The Express Tribune, "Although the intensity of the flood is not more than the 2010 flood, the destruction caused this year is more because heavy rains had already submerged the entire area and now the floodwater had become stagnant.
He said the water level had not receded for a long time, which had turned the entire Shah Wala area into a big lake.
Deputy Commissioner Imtiaz Ahmed Khichi said an estimated 250,000 local people had been affected and the district administration had set up 36 rescue points from where residents had been evacuated by boats. The administration also set up 66 flood relief camps where the government provided meals to 13,000 residents.
Punjab Livestock Minister Shahabuddin Khan said 7,00,000 animals were also affected by the flood, but the department had made arrangements for their vaccination.
Rafat Bibi, a resident of a relief camp, expressed satisfaction over the facilities, but Sharifan Bibi, who was staying at a camp in Islamia Girls School, demanded the arrangement of milk for children.
A doctor said the health department had deployed staff with essential medicines in all relief camps.
Meanwhile, the release of water at Chashma Barrage has reduced and the people living in tents and open spaces have started returning to their homes as the floodwater receded. "We will ask the residents of the relief camps to go back to their places and provide them food hampers," the DC said.
"As soon as the floodwater recedes further, we will start a survey to assess the damage caused," he said
The official said he had written a letter to the higher authorities to declare Layyah an affected district.
Published in The Express Tribune, September 13th, 2022.
COMMENTS
Comments are moderated and generally will be posted if they are on-topic and not abusive.
For more information, please see our Comments FAQ