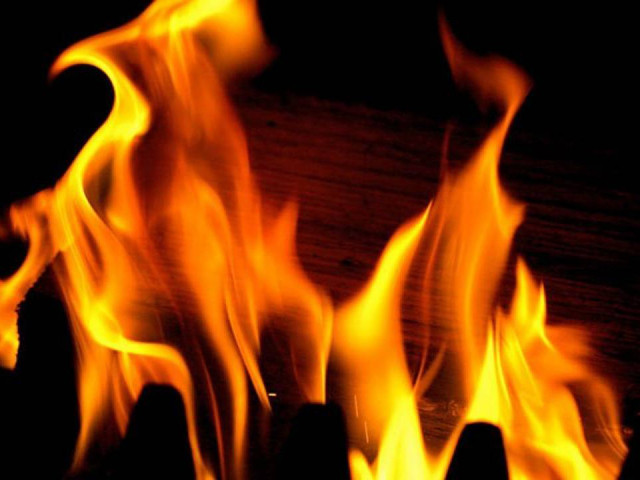 ---
GUJRAT:
A five-month pregnant woman who had allegedly been set alight by her sister-in-law over a week ago died in a Lahore hospital on Sunday, police said.
Twenty-two-year-old Iqra, a resident of Qadir Colony in Jalalpur Jattan, had gotten married to Sajjad of Mohalla Jatabad six months ago.
Soon after her marriage, her relations with her sister-in-law Najma Bibi soured, and quarrels between the two women over one thing or the other became a matter of routine, according to the police report.
This squabble reached its climax on September 2 when rage overpowered Najma Bibi who allegedly poured petrol on her sister-in-law while she had been cooking in the kitchen and set her alight, said the report.
A tormented Iqra with her body on fire rushed out of the house and into the neighbourhood where some people managed to put the fire out. But the damage had been done by then. Iqra had been badly burnt.
She was shifted to the Aziz Bhatti Shaheed Hospital from where she was referred to Lahore in a highly critical condition.
There at the hospital she fought for her life for 10 days. Doctors said she had 80% burn injuries and her chances of survival were very thin. She passed away on Sunday. Police had registered an FIR against Iqra's sister-in-law Najma and two unidentified persons on the very day of the incident on the complaint of Zain Iftikhar, a brother of Iqra's.
According to the spokesperson for the DPO of Gujrat, Syed Ghazanfar Ali Shah, a case had been registered under Section 336 immediately after Iqra was attacked, but the accused in the case had obtained interim bail from the court. However, since Iqra had died, now Section 302 would be inserted in the FIR, and all the legal requirements would be fulfilled to provide justice to the victim's family.
However, Iqra's heirs are not satisfied with police action so far as they say that despite the case having been registered on the very day of the incident, police did not arrest any of the accused.
The overwhelmed heirs of Iqra even staged a protest demonstration against the police at the Kacheri Chowk and blocked the road by burning tyres.
Higher police authorities intervened and pacified the protestors by promising them that justice would be done.
Published in The Express Tribune, September 13th, 2022.
COMMENTS
Comments are moderated and generally will be posted if they are on-topic and not abusive.
For more information, please see our Comments FAQ