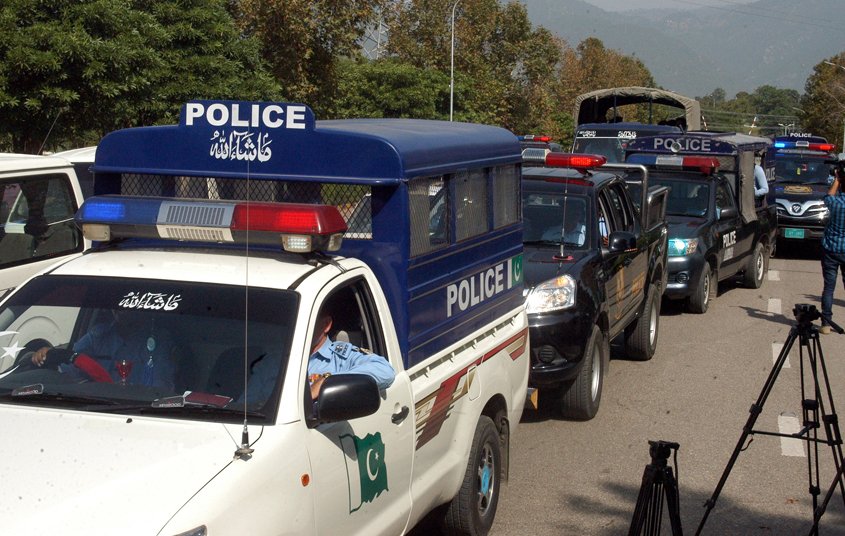 ---
ISLAMABAD:
A suspect wanted in dozens of cases by the Islamabad Police managed to escape from police custody after his alleged gang members opened fire on police vehicle, bursting their tyres.
Sources privy to the development told The Express Tribune that Farhan alias Samba, a symbol of fear and terror in the federal capital, was arrested by police for illegally occupying a house in Ghauri Town Phase IV.
The police were taking him to a location to recover a Kalashnikov when Samba's alleged armed accomplices, who were hiding in an under-construction house, opened fire on police's double-cabin vehicle when it reached the spot.
Stunned by the ambush, police officers barely managed to save their lives from the onslaught. The suspect on the other hand managed to flee along with his accomplices from the crime scene. The attackers burst all tyres of the police vehicle by shooting directly at them.
Also read: Islamabad police withdraws case against Baloch students
Meanwhile, the police have formed several teams that reportedly conducted several raids in various parts of the federal capital to re-arrest the culprit.
The police received a tip-off that the suspects were hiding in the Bara Kahu area of Islamabad. However, they could not be traced during the search operation despite the entire area being cordoned off.
IG Islamabad has ordered DIG Operations to arrest the accused again immediately and directed an investigation into the incident.
Police sources told The Express Tribune that the accused was wanted by the police for many heinous crimes including rape of women and children, armed robberies and kidnapping for ransom.
A police official revealed that the people are very fearful of the accused, saying that the suspect had killed a man within the limits of Sabzi Mandi police station but his family did not lodge the FIR, fearing for their lives.
Sabzi Mandi police station also did not register the FIR of murder against the culprit despite being aware of the incident.
COMMENTS
Comments are moderated and generally will be posted if they are on-topic and not abusive.
For more information, please see our Comments FAQ