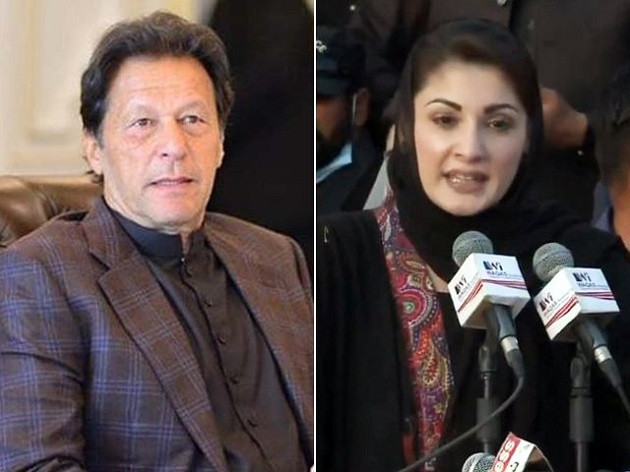 ---
CHISHTIAN:
PML-N Vice President Maryam Nawaz on Thursday lashed out at PTI Chairman Imran Khan saying the deposed premier's presence whether in government or in opposition meant "disaster" for the country and added that his dream of coming to power again had been "crumbled to dust".
Referring to the PTI chairman's recent statement that the appointment of army chief should be made on "merit", the PML-N vice president asked Imran if he had come to power by honest means. "An elected premier was removed to appoint you (Imran)."
She made these remarks while addressing a public gathering in Chishtian, Bahawalnagar district.
"The one who censures the institutions cannot be a patriot," she said.
Maryam said her father and PML-N supremo Nawaz Sharif thrice remained the premier of the country but was never "allowed" to complete his tenure. "Sometimes after two years and sometimes after two-and-a-half years [Nawaz's] government was ended."
The PML-N vice president maintained that the PTI chairman did not have anything to his credit except using "abusive language".
"Four years ago, Imran's speech started by addressing Maryam and Nawaz Sharif and ended with their names. Today the situation is the same," she said.
"Unfortunately, we are dealing with a devil and a wicked person."
Maryam said she would not launch a personal attack on the PTI chief but instead would contest him politically. "You (Imran) are fitna (chaos) Khan."
"Whether he is in the government or in opposition, he is a 'disaster' for the country."
The PML-N leader alleged that the PTI chief had the support of foreign forces, saying Imran could do anything for money.
Deliberating on the PTI chairman's remarks on the female judge, Maryam said Imran was "neither a politician nor his party was a political one".
"Floods have wreaked havoc in the country but Imran and his [provincial] governments are nowhere to be seen," she said.
"Your dream of coming to power has been crumbled under dust," she added.
COMMENTS
Comments are moderated and generally will be posted if they are on-topic and not abusive.
For more information, please see our Comments FAQ