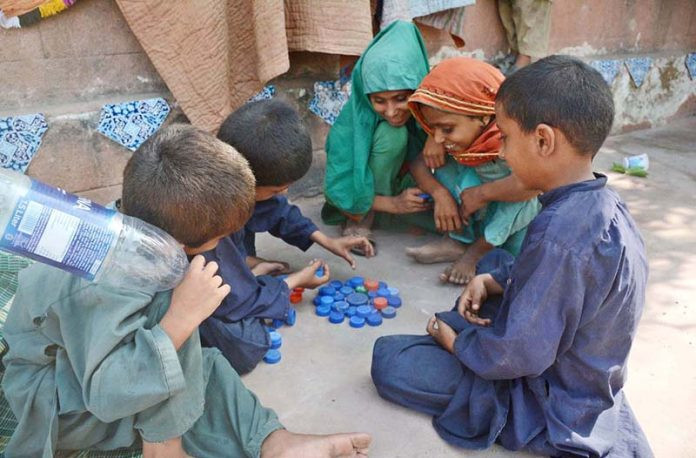 ---
KHAIRPUR:
The body of one-year-old Aasia Mumtaz rested on a charpoy, roughly four times her size, at a relief camp located in Kot Diji, Khairpur district. She starved to death.
The camp of roughly 80 families had no milk for the baby and the pangs of hunger coupled with mosquito stings didn't give her much chance to continue fighting against the harsh realities that emerged after torrential rains and flash floods inundated her village.
Her mother Hajiani Bibi, who had her last meal some 36 hours ago, couldn't cope with the pain and frequently fell unconscious.
The camp – erected right next to Talpur dynasty's Kot Diji Fort which was built between 1785 and 1795 –high temperature during the day that turned the tents almost into baking units.
Also read: UN preparing for worse to come in Pakistan floods
People lost their cool when they saw their children crying for help and decided not to bury Aasia until the authorities concerned come to see them and solve their issues. The issues were simple: they needed something to eat and drink.
"My daughter cried all night; we didn't have anything to give her and she passed away," Bibi wailed before she fell conscious again. "Neither we got water nor milk," Aasia' father, a labourer, said, adding he couldn't even get a mosquito net and a tent for his family of six.
Another man, holding his son in his arms, said he didn't have food, water or milk since yesterday, adding: "Our children are dying thirsty."
Also read: Death toll from floods at 1,325 as 11 more perish
He along with several others said that they were given only one mosquito net for one family, adding neither the elected representatives nor the local authorities provided them with any help.
"We are poor, where should we go," he said, alleging: "The relief goods are being stored in bungalows; we are not being given anything." First, another man incorporated, the "floods drowned us and now people are dying because of hunger".
The United Nations Office for the Coordination of Humanitarian Affairs, while quoting Save the Children, has stated that about 458 children have so far died as a result of the devastating floods in Pakistan, accounting for nearly one-third of the total fatalities of more than 1,300.
The situation is not much different in the surrounding Kot Diji Fort as three sides of the fort were surrounded by six-to-eight feet water and a boat was being used for reaching the people, who were still living in tents amid scorching heat in dry places on the mountains near the fort.
Also read: Rescue operation underway around Manchhar lake
Patches of the highway, houses, crops, and land surrounding the highway were still under water. Locals said that the floodwaters had receded a bit but the situation was still precarious because of the stagnant waters hid vast areas of land.
"The boat requires at least four-foot water to run," an army official said, as he took people from one side to the other. On the way from the roadside to the villages, one can see houses, schools, and a big cricket ground completely submerged, while the people are on their toes for any help that could come their way.
The Government Degree College in Kot Diji was also inundated. Javed Rasool, the principal of the college, told The Express Tribune that despite the floods the Education Department had issued directions to mark attendance and share the condition of the premises.
Also read: Manchhar Lake recedes but flood rampage continues
Javed Rasool had shot a video from his cell phone, explaining the situation around the college. "I would send this video to high-ups as proof that I went to the college," he said.
Javed said that the college was shut for many days because there was no way students or teachers could make it to the premises. "Tell me how can one come to college when it is underwater," he asked.
He said that the Sindh Education Department had instructed the management of schools and colleges to start online classes. He found that direction bizarre, saying that not every student, most of them who are from poor families, had smartphones. "Even internet connectivity is hampered because of floods," he said.
The mud house of Khuda Bakhsh was still under water as he waded through knee-deep water to speak to The Express Tribune. "We have lost everything. Nothing is left. My house is still underwater," Bakhsh said.
Bakhsh then innocently asked: "When the tiger force would come for our help," while referring to former prime minister Imran Khan's plan to help people affected by floods through his tiger force.
Hours after The Express Tribune visited the area and the authorities came to know about child's death, local authorities and the police teams visited the camps and started providing food, water and other relief items.
COMMENTS
Comments are moderated and generally will be posted if they are on-topic and not abusive.
For more information, please see our Comments FAQ