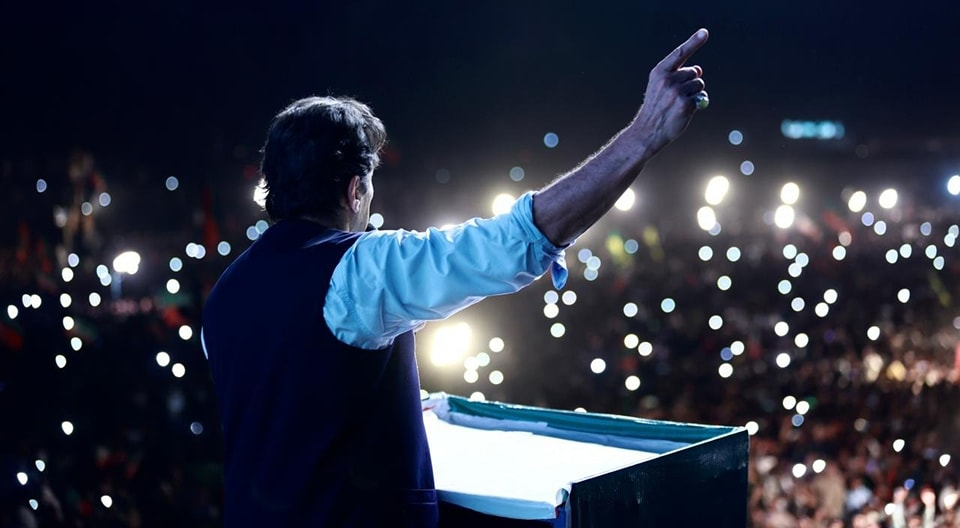 ---
CHISHTIAN:
PTI chairman and deposed premier Imran Khan on Wednesday claimed that a conspiracy was being hatched to overthrow the Punjab government – where his party was dominant even though Chief Minister Parvez Elahi of the PML-Q was its ally – so that the path for PML-N supremo Nawaz Sharif's return to the country could be cleared.
Addressing a public gathering in Chishtian arranged in connection with the by-election there on September 11, the PTI chief alleged that former ministers belonging to his party were receiving threats from "Mr X" and "Mr Y".
He noted that the country was facing a disaster in the form of floods and the government was busy begging from the world.
This, he added, was because the "biggest robber" in the country was the prime minister instead of being in jail.
Imran noted that PM Shehbaz and his son Hamza had filed pleas in court to end the money laundering case of Rs16 billion against them.
He added that both were going to be punished in this case, but as a result of a foreign conspiracy, internal and external "traitors" had imposed them on the nation.
He reiterated his claim that Nawaz was making decisions about who the next army chief would be as well as who would be jailed.
The PTI chief again said his political rivals were trying to create a clash between him and the military.
"No matter how hard the PML-N tries, it should be clear that the Pakistani army is also mine as well as the country," he added.
Imran maintained that his effort was to criticise the judiciary and the army constructively, like a father did for his son.
He added that those who had attacked the Supreme Court were now accusing him of being against the judiciary and army.
The PTI chief claimed that his party was the only one with roots in every province and attempts were being made to break it.
The PTI played an audio recording of PML-N leaders discussing a no-confidence motion in the Punjab Assembly.
Imran said after that the PML-N believed that a no-trust motion would not be successful without a deal with the establishment.
The ex-premier also claimed that the Election Commission of Pakistan was the government's lapdog.
He maintained that the PTI MPAs in the Punjab Assembly were being offered millions of rupees to switch loyalties.
He added that the journalists reporting the PTI's narrative were being jailed.
Speaking about PML-N Vice President Maryam Nawaz, the PTI chief said during the 1965 war, an Indian radio "Akashvani" used to run and its sole purpose was to spread lies.
He went on to equate Maryam with that radio channel.
He requested the people of Chishtian to vote for the "bat" on September 11.
COMMENTS
Comments are moderated and generally will be posted if they are on-topic and not abusive.
For more information, please see our Comments FAQ