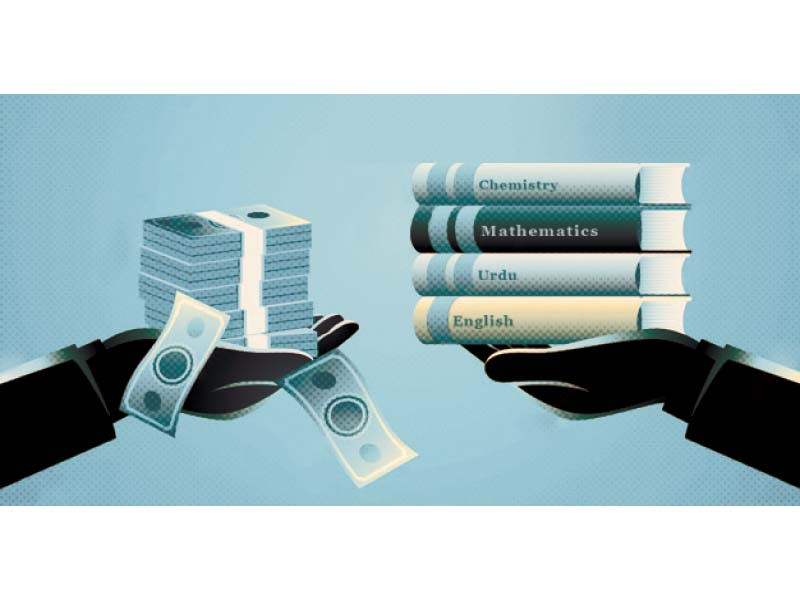 ---
KARACHI:
Already struggling to make ends meet due to the back-breaking inflation in the country, parents of school going children in Sindh have been further burdened by exorbitantly priced textbooks.
The Sindh Text Book Board (STBB), which falls under the provincial department of education has increased the prices of new books up to 300% for the academic session of 2022, much to the dismay of parents and children alike. On top of that, some books for the intermediate level are entirely missing from the markets - making it a double whammy for students.
President of Urdu Bazar Association Karachi, Suleman Jiwani, confirmed to the Express Tribune that not only had the prices of textbooks of STBB more than doubled but "many of the books for first and second year simply are not available in the market." As per Jiwani, parents who have been frequenting the Urdu Bazar Karachi, are disgruntled at the fact that the Sindh government is making books inaccessible in already trying times.
Parents, who were visiting the book markets in preparation of the new academic year, feel that since the provincial government can provide free books to students of public schools it could have bound the STBB to fix lower prices so that hundreds of private school children were not overburdened. Retailers of Urdu Bazar, concurring with the sentiments of parents, as high prices mean fewer customers, revealed that the complete course had become out of reach. "For example, the ninth grade book set which previously retailed for Rs1,000 is not even available for Rs2,000 now," said one retailer. He further informed that the prices for Sindhi subject books had gone up from Rs40 to Rs100; Pakistan Studies from Rs111 to Rs260; mathematics books from Rs200 to 420; physics books had gone up from Rs150 to Rs 300; whereas chemistry books were retailing at Rs256 up from Rs100.
Secretary STBB, Hafeezullah Mehar, when asked about the drastic upsurge in prices, said that the approval had been given by the Board of Governors. "The board had not increased the prices since 2016, even when the price of paper was continuously rising. Back in 2016, the dollar was Rs100 and now it has gone up to Rs220, so it is impossible to sell at the same prices," said Mehar. He further said that despite the increase in printing cost, STBB's books were still cheaper than those of Oxford Press, which were retailing for thousands of rupees. When asked about the unavailability of books, Mehar conceded it was an issue. "Due to the unprecedented rains, the printing has been delayed. However, now the books will start arriving in the markets," the secretary said while talking to The Express Tribune.
Published in The Express Tribune, September 3rd, 2022.
COMMENTS
Comments are moderated and generally will be posted if they are on-topic and not abusive.
For more information, please see our Comments FAQ