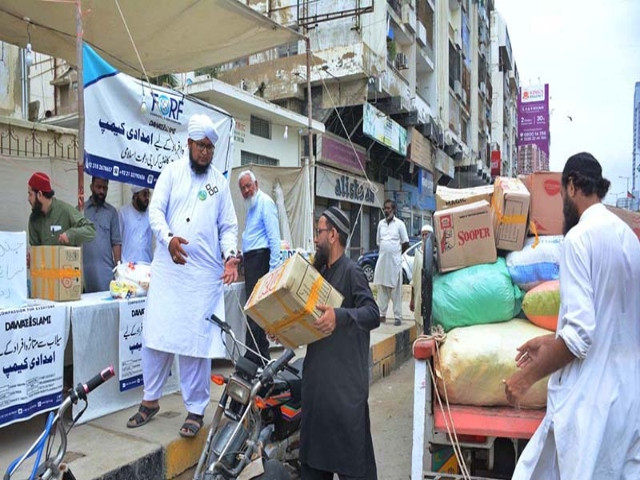 ---
KARACHI:
Leaders of the rehabilitation efforts across Pakistan are urging the government to waive sales tax on relief goods, food and second-hand clothes, as a means of providing relief to flood-affected citizens.
"It is very painful to see that there is a 17% sales tax levied on food items and used clothes in such circumstances when the common man is finding it difficult to survive," said Zulfikar Thaver, President of the Union of Small and Medium Enterprises (UNISAME).
"The purchasing power of the middle class is falling due to shortages created by the floods. As a consequence, producers and retailers have increased prices. And now suddenly, prices are out of reach for the underprivileged and now even the middle class is feeling the pinch," he added.
Ismail Suttar, President of the Employers Federation of Pakistan (EFP) explained, "There is a general sales tax (GST) on everything unless specified in the sixth schedule."
"We are requesting the provincial governments to waive the sales tax on all kitchen, food, relief items and second-hand clothes without any further loss of time. Now all food items have become unaffordable and immediate relief is required. Restaurants are also charging 17% sales tax. They have also increased prices further reducing the buying power of customers," lamented Thaver.
"In the 2019-2020 budget, the government decided to eliminate the zero-rating scheme for the textile sector and imposed a normal 17% sales tax on all supplies of textile products, except for those subject to exports. There is a sales tax on second hand clothing which must be abolished immediately as people now cannot afford to buy new clothes and are resorting to second hand clothing," he added.
Arif Habib Commodities CEO, Ahsan Mehanti was of the opinion that, "Abolishing sales tax on relief goods is the first step towards normality and would be of great help to humanity and those displaced. Inflation is a challenge and the government's decision to provide relief on taxes will help inflation to remain subdued if timely relief is given."
"At a time when the country is drowning in floods and inflation, it would be unwise to impose sales tax on food, clothing and relief goods such as tents, plastic jerry cans, ropes, rugs and blankets," argued social activist Soban Hanif.
With the devastation of floods and loss of agricultural crops, the government is gearing up to import certain vegetables in order to stabilise market prices, explained Tahir Abbas, Head of Research at Arif Habib Limited. "To ensure smooth supply and reduced prices, the government has abolished GST on imports of tomatoes and onions," he added.
"The government should maintain an equilibrium in the demand and supply of essential food items. For this purpose, necessary arrangements should be made in advance including import of food items from the competent countries to ensure availability of these items at affordable rates," emphasised United Business Group (UBG) President, Zubair Tufail.
"There is an immediate requirement for relief goods namely items of food, medicines, clothing and shelter. The government is well aware of this but has not taken any action to withdraw sales tax on these goods," said Tufail.
Published in The Express Tribune, September 3rd, 2022.
Like Business on Facebook, follow @TribuneBiz on Twitter to stay informed and join in the conversation.
COMMENTS
Comments are moderated and generally will be posted if they are on-topic and not abusive.
For more information, please see our Comments FAQ