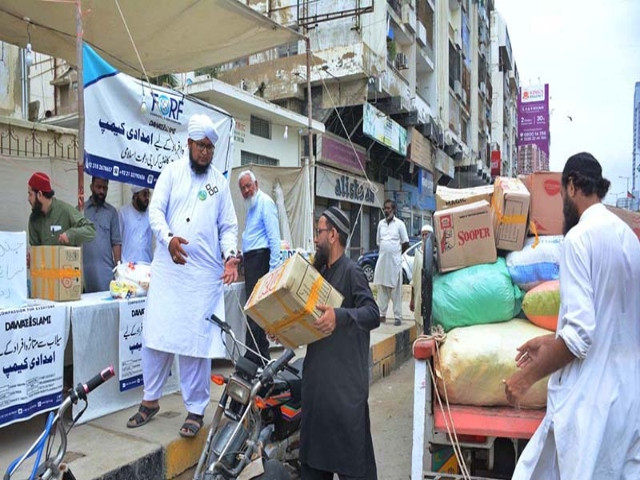 ---
KARACHI:
Besides the government, various welfare organisations and political parties have set up relief camps across Sindh including Karachi to collect
donations and relief goods for the victims of the devastating floods where people are generously donating food grains, clothes, medicines and other essential items.
The Muttahida Qaumi Movement-Pakistan (MQM-P) has set up camps across the province.
MQM Senior Deputy Convener Amir Khan and members of the Coordination Committee, including Waseem Akhtar, and others visited the camps at Qasba and Orangi Town.
"Once again, the country is facing a difficult time due to floods as millions of people have lost their properties. This is a huge national trag- edy," Amir Khan said.
MQM Deputy Convener and Karachi's former mayor Waseem Akhtar, along with members of the Coordination Committee, visited the camps set up in Shah Faisal Colony, Landhi and Korangi.
Akhtar said that it was sad to say that some feudal lords in Sindh had diverted flood-water towards poor settlements only to protect their farmlands, which claimed several lives.
ACP
The Arts Council of Pakistan (ACP) Karachi has decided to take over the management of the Razaqabad Relief Camp established for the flood victims where more than 1,400 people are currently staying. All the people in the camp are being provided with essential housing and all medical facilities.