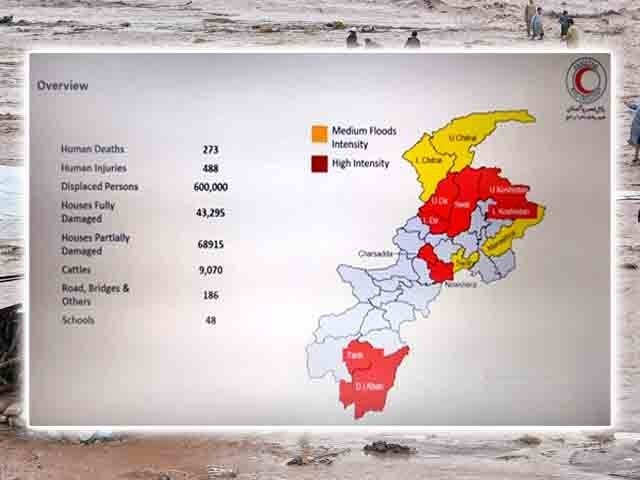 ---
PESHAWAR:
The Khyber-Pakhtunkhwa (K-P) chapter of the Pakistan Red Crescent Society issued a preliminary assessment report on Wednesday of the damages caused by floods in three provincial districts.
According to the aid agency, villages in the districts of Lower Kohistan, Upper Kohistan and Kolai Palas have been destroyed, giving rise to fears of a severe humanitarian crisis.
"At least 630 houses were completely destroyed while 250 houses were partially damaged," the report mentions.
"So far 23 people have died and 10 have been injured. In addition, along with destruction to large-scale agricultural land, livestock has also been killed, land routes have been cut off in many areas and water lines have been completely destroyed. Due to the disconnection of land routes, the victims are facing acute shortage of food and water," it added.
Read Devastated & cut off from rest of K-P
Prices of various vegetables and fruits have massively surged in different parts of K-P, and there are fears that they will continue to rise due to the short supply in markets and damages to the crops by floods.
The society stated that the initial information gathering teams have started reaching the affected areas after several days of hard work. tHE Pakistan Red Crescent K-P has appealed for immediate help from other welfare organizations and international organizations to avoid a possible humanitarian crisis in these circumstances.
K-P Chief Minister Mahmood Khan has also complained that the federal government has announced packages for other provinces affected by floods but allegedly ignored K-P. He asked for the province to be given its due share.