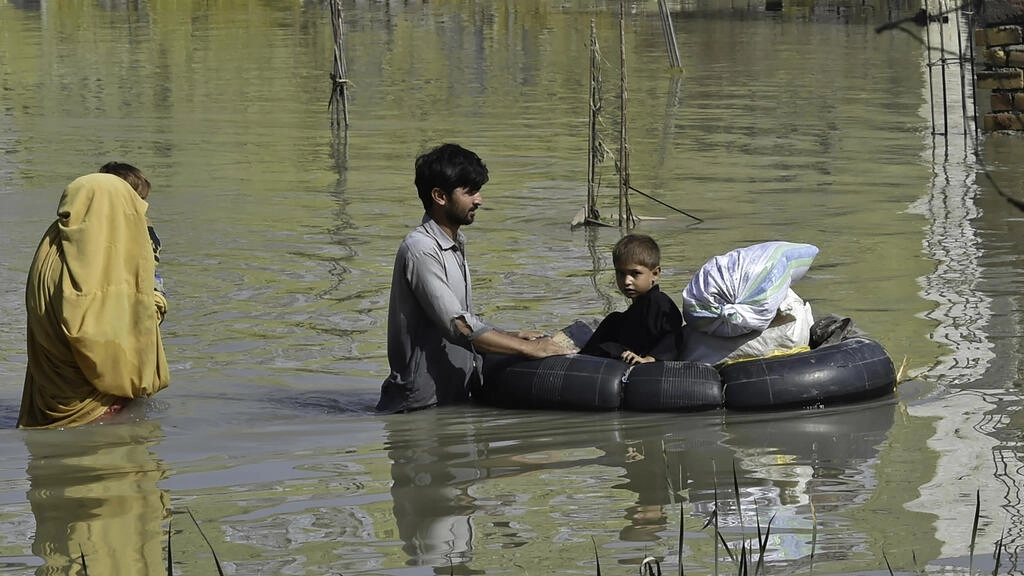 ---
CHARSADDA:
Just a week ago, before torrential rains pummelled his village, Rafaqat Ali was walking in his lush green fields, unbeknownst to the calamity lurking in the dark clouds, ready to gorge upon everything that nourished and fed him.
Now, a week later, the devastating floods have robbed him of everything he looks back with acute pain. Ali, like millions of others, has been plunged into a precarious life he would have otherwise shuddered to imagine.
His new abode, dictated by the brutal necessities of the flood's aftermath, is a tent set up right in the middle of the Islamabad-Peshawar Motorway. His deluged Awanabad Shabar village located in Charsadda is a lost world now.
"I had land roughly stretching over an area of 400 kanals, which is completely under water now, everything is gone. What will I do now," Ali wondered as he looked for someone distributing food and cold water as the scorching heat made it difficult for him and hundreds of others to spend days in makeshift tents days after they were uprooted by the floods.
For the first time, the motorway is presenting the look of the GT Road as rickshaws, motorcycles and animals moved freely on it while the motorway police allowing this violation as the disaster and the devastation that it has caused is so enormous that the 'new normals' were needed to be accepted.
A roughly 10-kilometre stretch on both sides of the motorway near Charsadda is completely inundated by floods and the traffic of the GT road also used it as patches of the GT road near Charsadda were still under water.
The crops are destroyed, houses and their belonging are in muddy waters and people are compelled to live in the mini tent villages dotting the motorway and its surrounding areas.
Surprising as it may seem, some people, especially elders, were seen ensconcing themselves on the rooftops of their homes. They are too old to navigate their arduous way up to safer places and most importantly, to guard whatever is left of their properties and valuables.
Their family members staying in tents regularly supply them with food by crossing stagnant flood waters. Sanaullah was one of them whose father and female family members are staying on the rooftop of their houses and he has been tasked to supply them with food after mostly collecting it from charity organisations and people driving by.
After tents, cold water was among the most sought-after items at the Charsadda relief camps.
Those who couldn't or avoided drinking the kind of boiling hot water amid scorching heat got dehydrated and landed at the medical camp set up by the Pakistan Air Force, which treated roughly 300 people in just a few hours after the camp was set up.
The PAF also set up a washroom for the flood-hit people, especially women, who found it really difficult to find a place when nature called.
Shabbir Khan and Qasim Khan were furious at the government and authorities for not looking after the displaced people and their animals. They said that people didn't have tents, cold water, food and washrooms even when they had submitted their CNICs to the officials.
Shabbir revealed that the tents were provided to a handful of people against their CNICs on the condition that the identity cards would be returned when the tents would be handed back.
Soon, people were happy to see a tanker from Peshawar Development Authority bring water for their animals tied with the fence of the motorway. However, the desire to have cold water pushed many, including children, to the extent that they didn't hesitate to drink the water brought for the animals arguing that it was far colder than the water they had in their tents.
Since the floods have hit the country submerging more than half of it from north to south, the lack of planning, mismanagement and misplaced priorities are evident at every step. Worse, the reconstruction phase would be much more difficult because all the attention will no longer be there and only people would be left alone to rebuild their lives.
"When we are not being looked after today, who will come to us later on," a flood-affectee said.