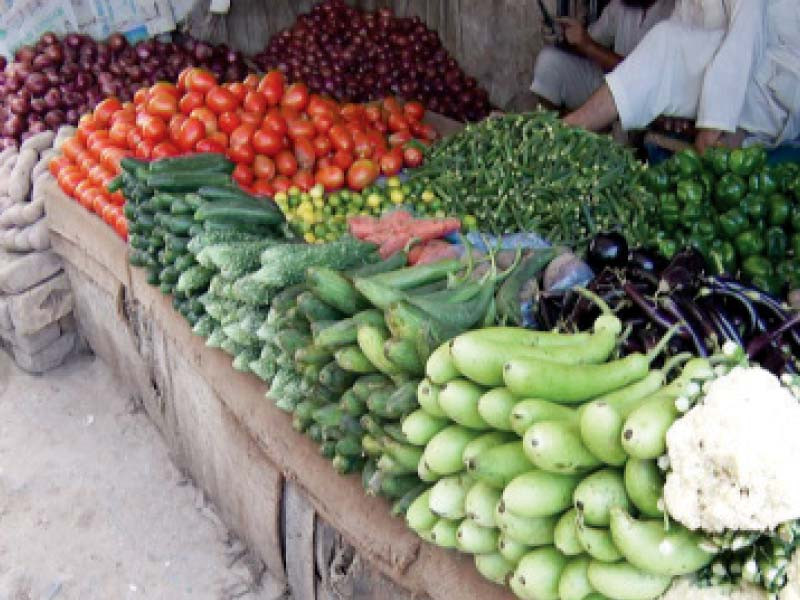 ---
PESHAWAR:
Prices of various vegetables and fruits have massively surged in different parts of Khyber Pakhtunkhwa (K-P) amid fears that they will continue to whizz skywards due to short supply in markets and damages to the crops by the floods.
According to details, the price of potato has jumped from Rs100 to Rs200, the price of turnip has increased to Rs200 from Rs80 while the cabbage, previously sold at Rs50, is now being sold at 120. The prices of tomatoes and onions have also increased by Rs240.
Similarly, fruits in Peshawar are also becoming dearer by the day, with the prices of peaches rising from Rs250 to Rs400 and apples from Rs150 to Rs300.
The unfettered surge is being witnessed amid devastating floods that have laid waste to the crops.
While a significant rise in the costs was being already anticipated, people are complaining that the sudden massive increase has rendered the essential items out of their approach.
However, it may be mentioned here that a report on Saturday by the MNFSR said that a major food crisis in the country would be unlikely in the wake of the devastating downpour and flash floods but the federal, as well as the provincial government, would be required to keep a strict check on hoarders to avoid artificial shortage and price hike.
According to an initial assessment report, Punjab, which produced almost 70% of the national agriculture output, had by and large remained safe, while the damage to the sugarcane crop was caused only in Sindh, but it was also minimal.
"The water resilient sugarcane crop has largely remained safe nationwide," the ministry report said. "Only 7% crop of sugarcane had been damaged in Sindh alone, while it remained 100% safe" in Khyber Pakhtunkhwa (K-P), it added.
The MNFSR said that K-P had reported vegetable losses at 6%, while Sindh reported it at 55%. Tomato and onion crops had been damaged by 20% and 28%, respectively, in Sindh. Potato is not among the damaged crops, as this is not its production season. "The previous crop of potato is lying in storage and its new crop would be cultivated later on," an MNFSR official said.
Pulses crop had, however, been damaged partially (26% in K-P), the report said. This was the off-season for pulses in Sindh. Their cultivation and harvesting season had yet to come for the ongoing year, Khangharam explained.
The ministry, however, reported the rice [paddy] crop, which the country used to produce in surplus and exported in the past, had been damaged significantly – 6% in K-P and 70% in Sindh.
Published in The Express Tribune, August 30th, 2022.