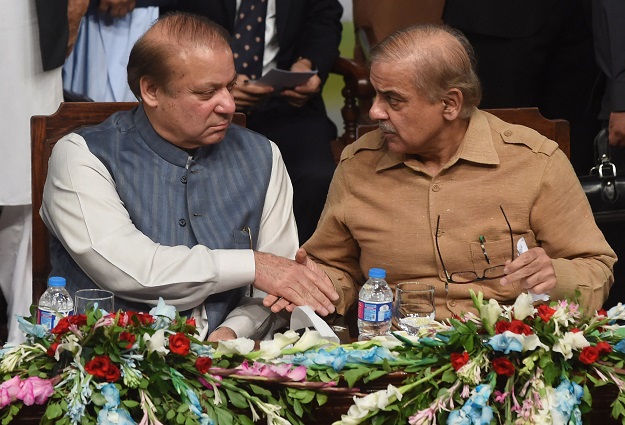 ---
ISLAMABAD:
The Islamabad High Court (IHC) on Monday reserved the decision on whether it will or will not hear the contempt of court petition against Prime Minister Shehbaz Sharif and his brother, former premier Nawaz Sharif regarding the elder Sharif's return to Pakistan.
According to the petition against the Sharif brothers, Nawaz went abroad with the permission of the Lahore High Court (LHC) due to illness and his brother had submitted an affidavit that the Pakistan Muslim League-Nawaz (PML-N) supremo would return after his recovery but did not, in fact, return.
The petition requested that Nawaz be labelled an "offender" and contempt of court proceedings ensue against both brothers.
The case was heard under IHC Chief Justice Athar Minallah, wherein the petitioner's lawyer Syed Zafar Ali Shah maintained that an order of the LHC was issued on the request of Shehbaz, while the IHC heard two appeals from Nawaz.
Shah further stated that Nawaz left the country while he was on bail from the IHC and had been permitted to go abroad, by the federal cabinet, with a condition of Rs25 million.
The chief justice remarked that the ex-premier's name was withdrawn from the Exit Control List (ECL) by the former federal cabinet and that the government did not approach the IHC even though the appeal was pending before the high court.
"The former federal cabinet gave him permission but only on the condition of depositing the money," he said.
Read IHC snubs contempt plea against PDM leaders
"You're a senior counsel. How can we hear this matter if it is pending before another court?" Justice Minallah asked the petitioner's lawyer, adding that despite the pending case before the high court the former government had removed Nawaz's name from the ECL without consulting the IHC.
He stated the court would not delve into the ongoing matter.
The court maintained that the petition would have been dismissed with an exemplary fine but it would not do so as Shah was a senior advocate and further questioned if he wanted to withdraw the petition or wanted a court order.
Lawyer Syed Zafar Ali Shah said that if the IHC wanted to reject the petition, he would withdraw the application and approach the LHC instead.
Justice Minallah remarked the petitioner's counsel was "free to go anywhere" and that the IHC would not give an observation.
"We will issue an appropriate order on this request," he concluded.