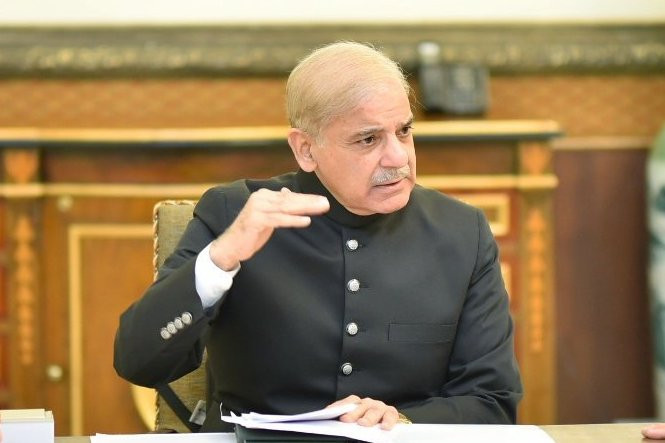 ---
ISLAMABAD:
Prime Minister Shehbaz Sharif has called an all parties conference (APC) on Monday to chalk out a unified course in an effort to deal with devastating floods that have displaced millions across the country and caused massive loss to the national economy, it emerged on Saturday.
Prime Minister Shehbaz Sharif has called the meeting to be held at the PM office and invited all parties excluding the Pakistan Tehreek-e-Insaf (PTI), sources said, saying the decision to invite the PTI would be taken after consulting coalition partners of the government.
"The decision to invite PTI would be taken after consulting the allies," a key federal minister of the PML-N-led government said, saying the first meeting would be held on Monday probably without the PTI and it would be envisaged in the meeting if the former ruling party should be invited or not for the next session of the APC.
The premier has called the APC to devise short- and long-term strategy to deal with the situation, arising out of the torrential rains and flash floods that unleashed a wave of death and destruction in all the provinces.
The severe monsoon caused widespread flooding, landslides and resulted in loss of human lives, livelihoods, livestock, property and infrastructure in all the provinces since mid-June this year.
Meanwhile, it also emerged on Saturday that the Pakistan Ulema Council (PUC) had called for convening the APC on the prevailing flood situation in the country. PUC Chairman Hafiz Tahir Mahmood Ashrafi told a press conference that all political and religious parties should pool financial and human resources to deal with the calamity.
Ashrafi said that Prime Minister Shehbaz Sharif should call the APC to help flood victims and Punjab Chief Minister Parvez Elahi should also play his role.
Political experts opined that calling the APC on the flood situation was one thing but inviting the PTI, which has the governments in two provinces, and the PTI's ultimate decision to participate or not in the conference, would cool down or further escalate the on-going political wrangling.
The APC would take stock of the latest situation of floods in Pakistan and the government's efforts to provide relief on an emergency basis.