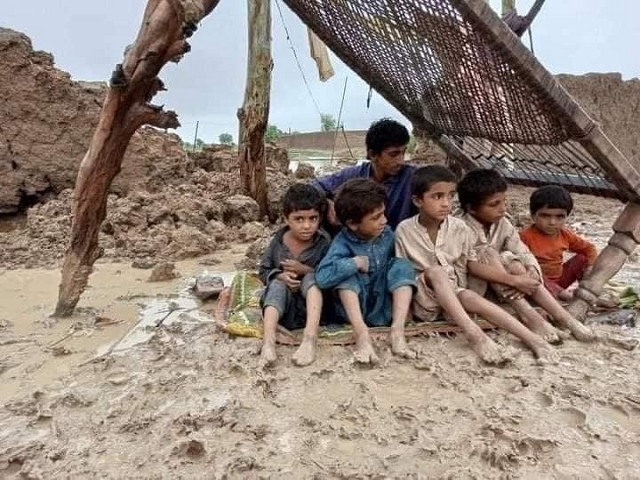 ---
KARACHI:
'When sorrows come, they don't come single spies, but in battalions' seems to have become the fate of many bereaved families ravaged by unsparing floods in Sindh's districts as they can't bury their loved ones because grounds meant for it are completely inundated.
In worst-hit areas, many families have been forced to stand by and witness the bodies of their dear ones decompose before their eyes as they await help.
However, district officials say they understand the distress but there was little they could do about flood-related funeral delays. Their first priority, they said, was to "save those who are still alive".
More than half of Pakistan is under water and millions of people have been rendered homeless as flash floods triggered by unprecedented monsoon rains enter their eighth spell with no signs of subsiding.
Already passing through the school of affliction, many people brace at the prospect of a double whammy of their failure to 'formalise' their grief for family members whose bodies are either yet to be retrieved or laid to rest.
Amina Khatoon, 90, a resident of Qasim Vighio, recently succumbed to the unbearable anguish after her son never made it back home. Before the family could even grieve the loss, a new round of misery was staring at them
Her son Gulbahar Vighio had left the home to shift his only asset – a buffalo – during the recent heavy rains. His body could not be recovered for two days.
"The relatives tried to convince the elderly mother that her son will come back soon but she could not bear the pain of separation and eventually died," Mohammad Chhutal Vighio, a relative, said.
He said that although over 80 per cent of families were displaced from the village, the relatives were holding out against all such odds and did their best to find a dry place to bury the body.
But the floods and surging waters kept preventing the burial for days.
Sharing the ordeal of having to work their arduous way up to Karachi along with the body, Atif Vighio, another relative, shared with The Express Tribune that a minister was also approached for an ambulance, but to no avail.
"One of the philanthropists in Mehrabpur provided us with the ambulance and we shifted the body to Karachi," he said.
As if the natural hurdles were not enough, the family also had to struggle to arrange a grave in Karachi before they could finally bury the body.
The decision to bring the body to Karachi was not an easy one. The relatives had tried very hard to find a place near the village and also even went to other parts of the district. It was only when a philanthropist came to their aid that the last rites could be performed, albeit unceremoniously.
Atif also shared that another relative's body was shifted to Mehrabpur's graveyard through a boat which was arranged from Dadu after 30 hours.
The instances of families unable to bury the dead in the town are aplenty.
"One of our kids who died during rains was buried near a water canal," said Saeed Sangri from Pir Jo Goth. "Everything is under water including graveyards," he said.
Traditions of burying hit hard by floods
In most areas of Pakistan, the sanctity of the age-old rituals of the burial are such that people usually prefer to bury their loved ones side by side, in a reserved spot called 'neighbourhood'.
This physical proximity in their death, however, has been challenged by raging waters.
"I have seen people from far-flung areas shifting bodies to the city," said Abdul Samad from Badin. "All three major graveyards are submerged since July," he said. He said that the families have to bury the bodies after four to five attempts from one graveyard to another.
"They do not have other option but to bury at any cost because there is no morgue where they could place bodies for a few days," he added.
Samad was of the opinion that majority of the people keep dead bodies hardly for eight to 12 hours. "They know the decomposition starts after 15 hours and no one can go against customs," he commented.
"The top priority is to save the people who are alive," said a district official on the condition of anonymity. "Yes, we [the government] understand the situation but it is not possible to clear graveyards."
The officials also said that it will take months in some areas to clean up the graveyards.