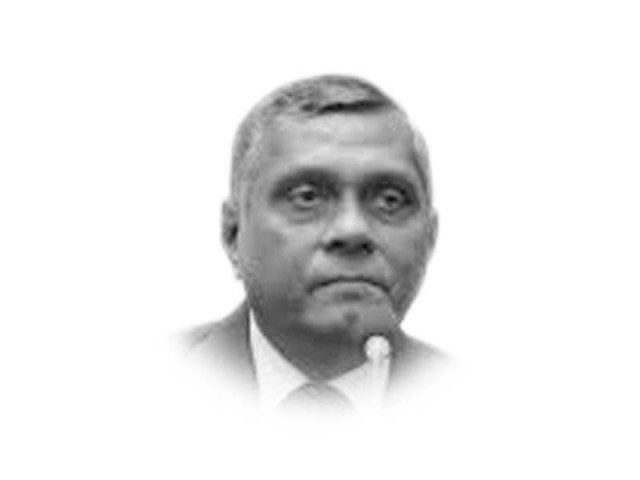 ---
As early as 1948, Hans J Morgenthau, an icon in the field of Political Science and International Relations, stated that "all politics is power politics." Morgenthau represents the realist school of thought and is termed an authority on power politics. According to him, human nature and mindset revolve around the pursuit of power.
One can agree or disagree with Morgenthau's contention about power politics; but in Pakistan's context, power is applied negatively for maximising one's authority and wealth; it is used and misused for corruption and nepotism. Positive and negative power is a reality. For instance, in an educated and enlightened society that is equipped with hardworking, honest and intelligent leadership, power will be used positively for the welfare and betterment of people. But when a society is dominated by power-hungry, corrupt, incompetent and dishonest people, the outcome is the negative use of power and the ultimate failure of the state.
In most post-colonial countries, negative power is a reality because of the powerlessness of people to resist over-ambitious political leaders and their principal backers wielding real power. Consequently, 75 years of Pakistan's history are replete with examples of lust and greed for power to maximise wealth and authority and reflect a feudal mindset to permanently suppress non-conformist segments of society by intimidation. The culture of power politics favouring a bunch of corrupt and dishonest people is further deepened when voices of dissent are silenced or those who are supposed to challenge the status quo compromise and surrender.
What are the perils of power and why should one go beyond power politics needs to be examined and analysed from three aspects.
First, in 75 years of Pakistan's history, a myopic approach to politics and governance produced generations of mediocre leaders. These leaders failed to understand the need to focus on issues that cause an economic crisis, social backwardness, bad governance, absence of rule of law, human insecurity, conflict with neighbours and erosion of sovereignty. This demonstrates a lack of vision, prudence and perseverance among those wielding power. Resultantly, this damaged the country's reputation and credibility but also deepened a culture of indifference and apathy toward real issues engulfing common people.
The disintegration of Jinnah's Pakistan in 1971; a surge of Afghan Jihad leading to Pakistan emerging as a frontline state; the surge of sectarianism, drug trafficking, and proliferation of weapons destabilised the state and society. Had the focus of those controlling the instruments of power been on human and social development and improving the quality of life, it would have transformed Pakistan into a global powerhouse. Unfortunately, people with a myopic and mediocre approach held political power and devastated the economy and governance of Pakistan. Had this not been the case, the country would have been a success story in terms of political stability, robust economy, good governance, rule of law, high literacy and good work ethic.
Positive human, economic, political, social and environmental indicators demonstrate that power is used for people's welfare and societal development instead of deepening a culture of greed and abuse of power. In Pakistan, there is an urgent need to transform the mindsets from feudal, authoritarian, greedy and corrupt into responsible, visionary and wise. This would require those who are wielding power to be mindful of time management, planning and competence to implement decisions for economic recovery, political stability, eradicating extremism, achieving self-sufficiency in food, energy and technology, and producing machinery necessary to revitalise the country's infrastructure.
Second, the positive use of power for ensuring justice, rule of law and accountability is the need of the hour. Power can yield positive results in Pakistan if it is used at micro and macro levels for uplifting the socio-economic status of people by formulating short and long-term policies. Ironically, in prevailing conditions, one can observe that power is used negatively to reach the corridors of power by manipulative means to engage in loot and plunder of national resources. The Pakistani people should not be involved in the government and the opposition's tug of war, as both the sides tend to ignore real issues facing the people. For a promising and prosperous future for Pakistan, negative power politics must be eradicated. The back-to-back debacles and Pakistan's inability to emerge as a success story over the last 75 years should have taught us some lessons. The country has suffered considerable damage because of the negative power politics. Without transforming the minds of the elites and the public, a better future is unlikely. Therefore, negative politics should be banned as it propagates lust for power and a culture of greed, violence, hate and extremism.
Third, both the government and the opposition have used all their energy and power to either let each other down or save or seize power. At a time when the country is facing natural disasters in the form of torrential rains and floods, those who are supposed to pursue a responsible approach to crisis and disaster management are involved in petty political issues. Millions of people in Pakistan are displaced because many cities and towns of Sindh and Balochistan are inundated with water, which has led to colossal physical and material damage. But there is no let-up in the notorious game of power politics that is further deepening political and economic crises.
The way out from the vicious game of power politics is not easy because Pakistan's culture and politics reflect irresponsible behaviour in dealing with critical issues. There is certainly no shortcut to preventing the negative use of power and focusing on using authority for the welfare and well-being of people. Given that those who used power for their vested interests have been exposed, what the country needs right now is to use power positively to prevent the country from descending into economic, political and environmental crises.
Published in The Express Tribune, August 28th, 2022.
Like Opinion & Editorial on Facebook, follow @ETOpEd on Twitter to receive all updates on all our daily pieces.