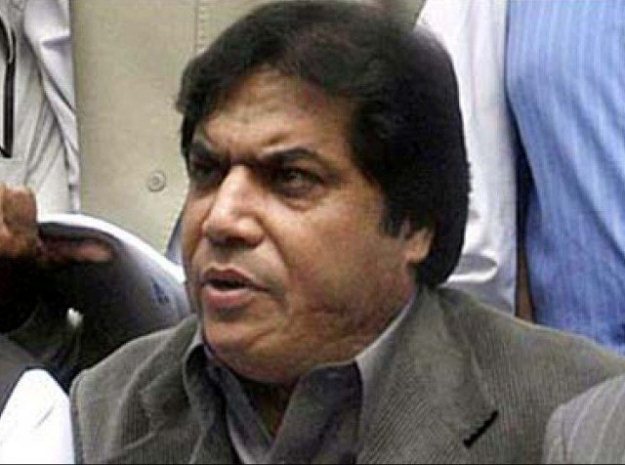 ---
RAWALPINDI:
Pakistan Muslim League-Nawaz leader Hanif Abbasi has lashed out at Finance Minister Miftah Ismail saying he was not performing as per expectations and destroying the 'hard work' of Prime Minister Shehbaz Sharif.
Addressing a press conference at his residence along with traders of Rawalpindi, the PML-N leader said that excessive taxes on electricity bills was un-called for. He said that every section of the society, including traders, was unable to pay electricity bills due to the imposition of heavy taxes.
"The country's economy cannot be run on loot and plunder," he said, lamenting that the finance ministry has imposed 11 taxes on electricity bills.
Abbasi said that the finance minister should stop looting and refrain from burdening the common man with unprecedented taxes. "As public representatives, we are facing immense pressure," he said adding that shopkeepers and manufacturers were also unable to do business given the surge in electricity bills. He said that his driver was served a staggering Rs16,000 electricity bill for the month of July.
Abbasi also accused some government figures of paying meagre bills in contrast to industrialists who, he said, were paying millions of rupees in taxes.
"A certain factory used 292,000 units but its total bill was only Rs700,000, as compared to another factory which is served with a bill of Rs16.7 million for using 382,000 units," he said adding that about 11 taxes including fuel, income and duty taxes have been slapped in electricity bills of domestic and commercial consumers.
He expressed the fear that industries would shut down if they were forced to pay huge taxes. Without naming, he said that a woman sitting in the finance ministry should not scare us. "People will close the business and run away. The situation is serious and the prime minister should take a decision immediately," he said adding that while committees have been formed to sort out the issue but people will starve until they submit their reports.
Abbasi said that an investment of $10 billion is coming from friendly countries. He said that such foreign investment should not be confused with loans. There is a campaign on social media on a contract with Qatar, but people should not pay heed to the propaganda.
The PML-N leader urged all political parties to shun politics for six months and help the flood victims. He said that Imran Khan should also play a role in saving the sinking of Pakistan. "If you ask for funds for your hospital and university, then come forward for these mothers and daughters too," he said.
Local business leader Sharjeel Mir said that the country cannot be run without businessmen. He said that a joint policy should be made with traders. He lamented that a "Chilli Milli seller" has been made the finance minister of the country. He urged the government to exempt consumers of up to 500 units of electricity from the new taxes. He said that if it is not done, small businesses will be shut down.
President Pharmaceutical Arshad Awan said that no industry can run in Pakistan given the new electricity tariff. Life-saving drugs are not being manufactured and the people are facing difficulties, he said, adding that the performance of the Ministry of Finance could not meet the expectations.
Published in The Express Tribune, August 27th, 2022.