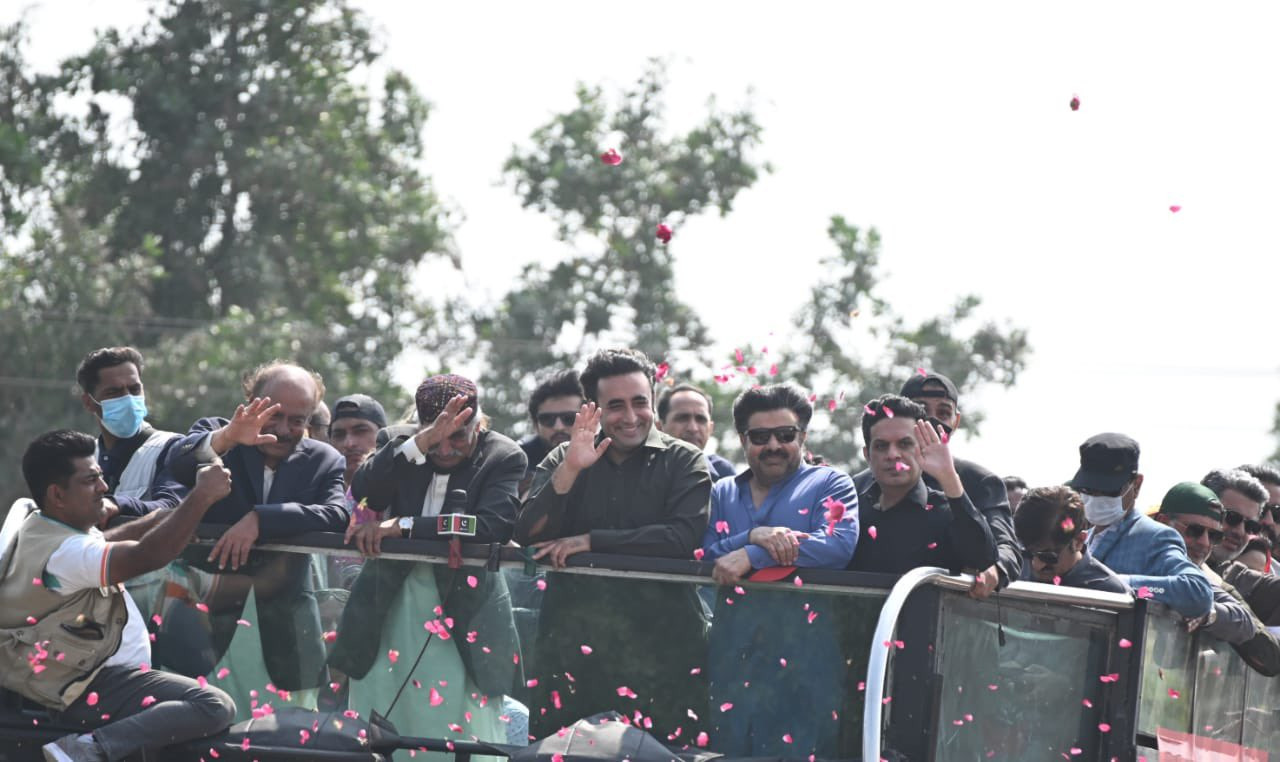 ---
LAHORE:
Announcing the party's withdrawal from the electoral race in NA-118, Pakistan People's Party (PPP) General Secretary Syed Hassan Murtaza said on Thursday that the Pakistan Muslim League-Nawaz (PML-N)-led government should take immediate steps to provide relief to the people, including those who are unable to pay the electricity bills and facing backbreaking price hikes,
Addressing a press conference in Lahore to announce his party's support for PML-N's candidate in NA-118, Dr Shizra Mansab Ali, Murtaza said that PPP is sharing the burden of difficult decisions taken by the PML-N government in these difficult times.
He said that inflation has reached its peak and the Pakistani Rupee is in a free fall. All political parties, in this time of need, should work together, especially for the flood victims, he added.
Speaking on the occasion PML-N leader Malik Nadeem Kamran thanked PPP Co-chairman Asif Ali Zardari and PPP Chairman Bilawal Bhutto-Zardari for their support.
The decision to withdraw a candidate from NA-118 was taken despite stiff opposition from its local leaders that wanted the party to contest elections and keep its voter base intact. The press conference was aimed at announcing PPP's withdrawal from the NA-118 race in favour of PML-N.
An office bearer of the party said that this decision was taken as part of the understanding reached during the initial days of the Pakistan Democratic Movement (PDM), whereby coalition parties were bound to leave the field open for the winning party if that party was amongst the coalition partners. If not, then they must leave the field in favor of the first runners-up from amongst the allied parties, he added.
He said that party workers were trading invectives over this party policy, as this practice was burying their politics in Punjab.
It is pertinent to mention here that Muraza has more than once claimed that his party will not leave the field open for the PML-N in Punjab, but almost every time, an order from the leading family in Karachi makes the provincial leadership reverse their previously held position.
It is also worth noting here that unlike elsewhere in Punjab, PPP indeed has a sizable vote bank in Nankana Sahib. During the 2018 general elections, PPP candidate Shah Jahan Bhatti secured around 18,700 votes, when a winning margin between the successful candidate Ijaz Shah and runner-up Shezra was only around 2,500 votes. Shah, who went on to become a federal minister, secured 63,818 votes while PML-N's Shezra secured 61,413 votes.
This constituency in the previous delimitation was NA-137, from where Rai Mansab Ali Khan, Shezra's father, won on a PML-N ticket, securing around 61,000 votes. Even during the 2013 general elections, Bhatti on PPP's ticket secured 11,997 votes. Bhatti, between 2013 and 2018, managed to increase his party's vote bank by more than 6,000 votes, which is a sizable increase for a party that has practically lost its foothold in Punjab.
Murtaza, while talking to The Express Tribune, dispelled the impression, saying that the PPP chairman had personally asked PPP's candidate Bhatti if he would like to withdraw in favour of the PML-N candidate keeping in view the common enemy that the coalition was faced with.
He said that it was with his consent that this decision was taken. Interestingly Hasan also said that the decision was in line with the agreed formula, which the party was adhering to.
When asked about the resentment within the party rank and file, the PPP leader said that the party understood the need for this sacrifice.
He said that they have not left the field open for PML-N. He said that their voters will never transfer to PML-N due to ideological differences. Rather their vote bank had switched to the Pakistan Tehreek-e-Insaf (PTI).
Asked whether the withdrawal of candidature is benefiting the PTI, he said that it is not so because their voters are with them.
To a question about withdrawing from NA-108 Faisalabad, he said that they have withdrawn from both the seats NA-108 and NA-118. However, the formal announcement would be made in Faisalabad.
COMMENTS
Comments are moderated and generally will be posted if they are on-topic and not abusive.
For more information, please see our Comments FAQ