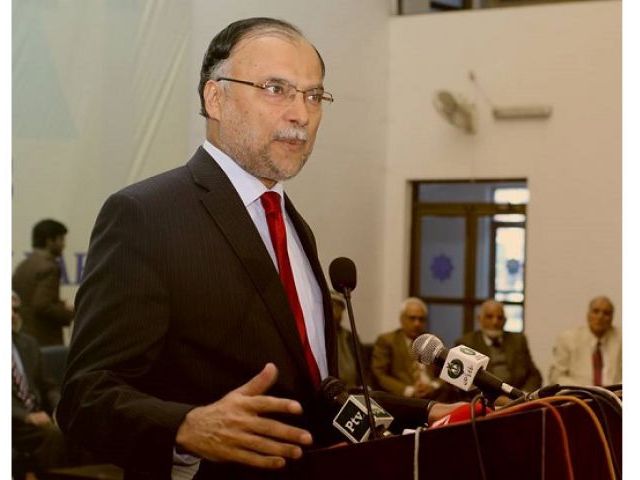 ---
Federal Minister for Planning Ahsan Iqbal has said that it is not correct to say that Pakistan could not develop due to corruption.
Addressing the launch ceremony of a report titled "Private Investment and Benefiting from CPEC", the federal minister said that if anyone says that the Pakistani nation could not develop due to corruption, it is wrong. The Pakistani nation is as corrupt as other nations of the world, he added.
Iqbal said that on completing 75 years, the nation needs to think about whether it has fulfilled its goals or not.
"What is the reason that other countries have gone ahead of us? As a nation, if the diagnosis of the disease is correct, the treatment will also be correct," the minister remarked.
He said that if there is uncertainty, alignment and polarisation in the country, foreign capital cannot come until the end of the day, he added.
Iqbal further said that political instability cannot lead to development in the country.
He said that when the economy stabilises, the increase in imports hinders the stability of payments. The China-Pakistan Economic Corridor (CPEC) was a piece of paper in 2013, he remarked, adding that the Chinese government and investors invested in Pakistan when local investors were not ready to invest.
The minister said that during the past 75 years, the Pakistani economy had been running like a roller-coaster. "We focused on imports, not exports," he said, adding that investors from any country, including Europe and America, were not ready to come to Pakistan.
"In five years, investments of $29 billion came from China; China is also willing to invest more with access to its own markets," he further said.
Talking about the energy crisis, Iqbal said that electricity can be generated from Thar Coal for 400 years. Thar Coal is the cheapest power generation project in Pakistan, he added.
"China came and invested in Thar Coal. In 2013, infrastructure and energy problems were faced. CPEC is not just a power and infrastructure plan, CPEC is a strategic plan," he remarked.
The federal minister said that Pakistan exports $2 billion to China annually. The Chinese government is ready to help Pakistani exporters, he added.
Referring to the previous government's tenure, he said that the last four years were "wasted". "We need to learn from mistakes so that we do not make more mistakes. Chinese companies and investors are trying to solve visa problems. If we work together, CPEC will surely prove to be a game changer," he added.
COMMENTS
Comments are moderated and generally will be posted if they are on-topic and not abusive.
For more information, please see our Comments FAQ