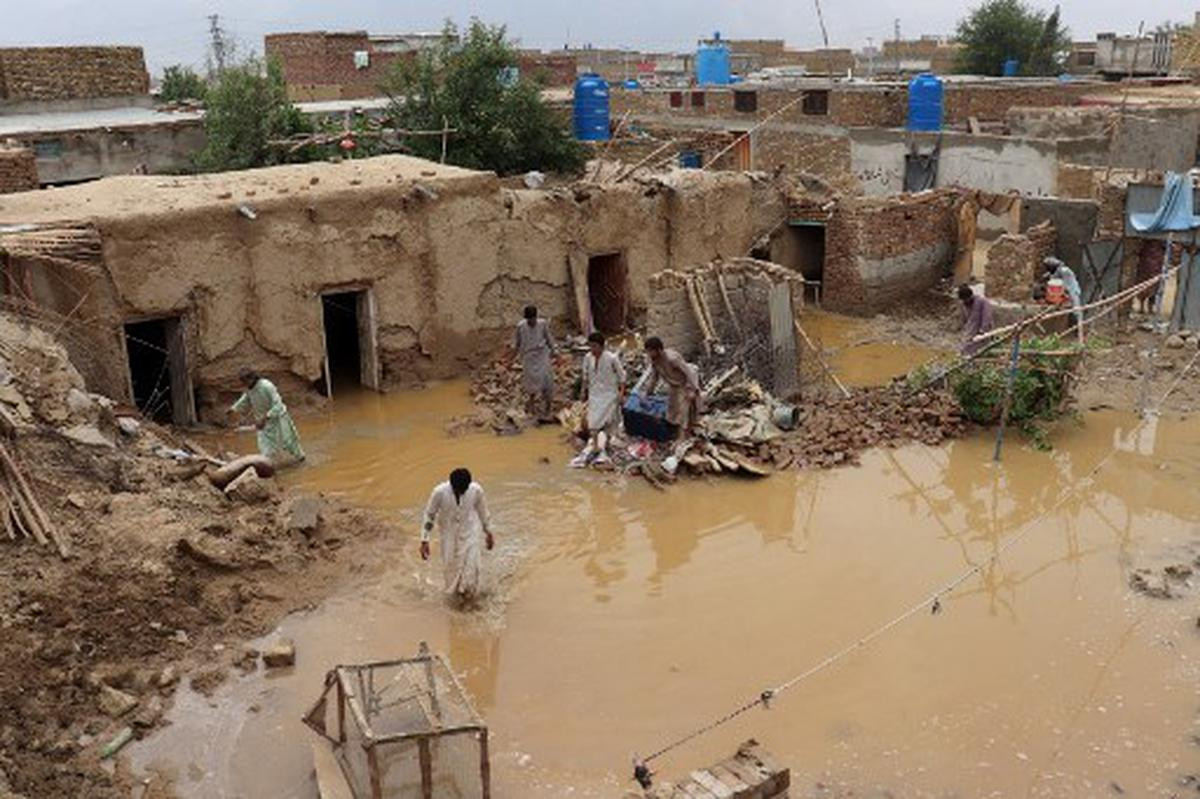 ---
BALOCHISTAN:
A new powerful monsoon system has disconnected Balochistan from the rest of the country, causing flash floods and broken bridges, and heavy rainfall which has washed away communication roads of the province.
According to Express News, intermittent rains are continuing in Chaman due to which the villages of Spina Tiza and Ghojai have been disconnected for the past three days.
The devastating rains have not only damaged roads and cut land connectivity in the city but flooding in storm drains has also caused internet and mobile network outage.
The Pakistan Meteorological Department (PMD) stated a strong monsoon system is spreading to south-central and western Balochistan and warned of heavy rainfall and strong winds.
Read: Floods wreak untold havoc as death toll tops 900
According to the Pakistan Disaster Management Authority (PDMA) rain claimed the lives of four more children in the last 24 hours.
Local authorities reported land connectivity with the village of Kahan has been disrupted for the past 18 days.
The recent heavy monsoon rains and subsequent floods killed more than 900 people and injured nearly 1,300 others, creating a "humanitarian crisis" in the country, Climate-Change Minister Sherry Rehman had revealed.
ملک بھر سے بارشوں اور سیلاب کی تباہ کاریوں کے دل دہلانے والے مناظر سامنے آ رہے ہیں۔ مون سون کی بارشوں اور سیلاب کے مختلف واقعات میں جون سے اب تک 903 افراد جاں بحق ہوئے ہیں جس میں 326 بچے اور 191 خواتین شامل ہیں۔ جبکہ 1293 لوگ زخمی ہوئے ہیں۔ 1/3 pic.twitter.com/wVVT0jtaE4

— SenatorSherryRehman (@sherryrehman) August 24, 2022
In a series of tweets, Rehman said that heart-wrenching scenes of devastation were emerging from the affected areas, as thousands of people had been displaced because of the floods, adding that thousands of people were still trapped in floodwater and waiting for rescue and relief.
This year, the monsoon rains in the country broke the 30 years record. Against the average annual rainfall during the last three decades – 128mm – this year Pakistan received 340mm of rain. The National Disaster Management Authority (NDMA) said this monsoon brought 166% more rains than the 30-year average.
COMMENTS
Comments are moderated and generally will be posted if they are on-topic and not abusive.
For more information, please see our Comments FAQ