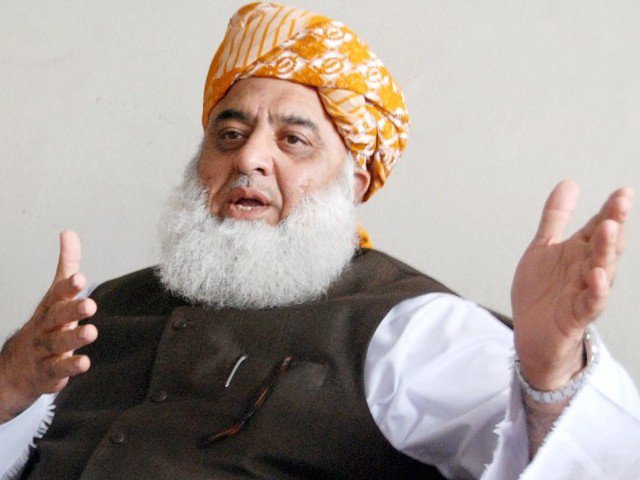 ---
PESHAWAR:
Jamiat Ulema-e-Islam-Fazl (JUI-F) chief Maulana Fazlur Rehman on Monday said that Pakistan Tehreek-e-Insaf (PTI) Chairman Imran Khan was given the government of Khyber-Pakhtunkhwa (K-P) to "cut the roots of religion", adding that they cannot close their eyes to his "mischief".
Addressing the closing session of the party's Central General Assembly, he said that they did not fight mischief by sitting in their homes, rather they acted in the field.
He termed Imran's speech a "sign of mischief".
The JUI-F chief said that the community of scholars cannot ignore the orders given by the Holy Quran. He said that scholars of all disciplines agree on the overall politics of Pakistan. "Our democracy is determined by our constitution," he said.
He added that the government of the state should be supported by the people, but the method of governance should be in light of the Holy Quran and Sunnah.
He said that the main goal of the government in terms of legislation is electoral reforms and reforms in the laws of the National Accountability Bureau (NAB).
He said that the right to vote for overseas Pakistanis was curtailed because there was no proper method for it and there were fears of 90 percent rigging. "Out suggestion was to give proper representation to overseas Pakistanis," he said.
Fazl said that the bureaucracy should take Shariah seriously since this is an Islamic country. "Every Pakistanis is a criminal in the eyes of NAB; this is [Pervez] Musharraf's gift."
He said that NAB has been working against corruption since its existence but there has been no result. "Only politicians are mentioned in corruption," he said.
The JUI-F chief said that the party workers should go ahead and serve the flood afectees. "Do not wait for governments," he added.
Commenting on the attack on Salman Rushdie, he said that it is the reaction of the Muslim Ummah. "We first raised our voice against Salman Rushdie in 1988," he said.
He went on to ask Imran to tell him on "whose signal did he declare the attack on Salman Rushdie in America unjustified".
COMMENTS
Comments are moderated and generally will be posted if they are on-topic and not abusive.
For more information, please see our Comments FAQ