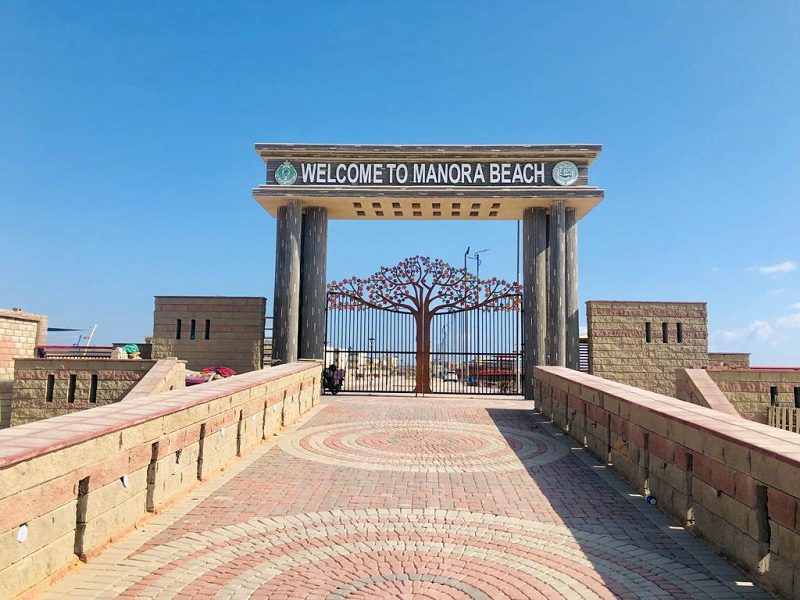 ---
There are many islands on the coast of Karachi, but Manora has a different story. This island, spread over three square kilometers, is an oasis of religious harmony where followers of different religions coexist peacefully as is evident from a cluster of ancient places of worship of various faiths, said a report by BBC Urdu.
Different communities living on this island respect each other's religious traditions and customs. Religious harmony is the beauty of this coastal town. These religious places built at a short distance on this island also teach tolerance to visitors.
This island has two churches, which were built during the British period. St. Paul's Church is one of the oldest, built in 1864, while the other is Sir Anthony's Church, whose foundation stone was laid in 1921.
The ancient temple of Varna Dev on this island is a proof of religious harmony found in this town. Along with the ancient Jama Masjid Shafi'i, the shrine of Yusuf Shah Ghazi is also the hallmark of this island.
The number of non-Muslims in this ancient population of Karachi is now much less than in the past, but these places of worship are still inhabited by their followers.
If one is interested in the story of the beginning of British rule in Sindh and wants to hear the tale from the mouth of a local, one must read Seth Naomal Hotchand memoirs.
Richard Burton also collected the memoirs of Sindh and published it in 1877 as "Sindh Revisited". Burton writes that the Duke of Argyll, the first London ship, anchored at the Manora Jetty in 1852.
Burton also writes that "there is St. Paul's Church, which has a red-tiled roof, and a Hindu temple with a dome like the pyramid of Egypt. There is also a grave, on which something is written in Arabic."
Father Boro Mungo of St. Paul said that this church is 102 years old. Father smilingly said that the real beauty of Manora is that Eids of different religions are celebrated together.
He further said that "last few days when our master ji had an accident, the Maulana of the mosque came to see him.
'Varan Dev' temple
On the 'Waterfront Beach Park' there is yellow stone temple 'Varan Dev' temple. Sham Sunder Das is its priest Maharaj. His family is the only resident Hindu family in Manora.
Sham said that the first construction of this temple took place in the year 1623. Iqbal Mandviya in his book 'Is Dasht Mein Ek Shahr Tha' describes it as the oldest temple in Karachi whereas according to Arif Hasan, the Varan Dev temple was rebuilt in 1889 by the Hindu businessman Darya Lal Seth.
Sham Sundar Das said that "We, the Sindhi people, also call this temple 'Jhule Lal Mandir'. A special puja [worship] is performed here on the full moon dates of every month."
Looking at the ruined state of the temple, it seems that the stone of this Hindu style temple was cut by not only by the sea wind but it was also ruled also by the people's carelessness. Nowadays, the reconstruction of this temple is going on.
Shafa'i Jamia Masjid
Shafa'i Jamia Madjid was built in 1890 by a local Kokan community in Manora. Irfan Ibrahim is a member of Shafi Masjid Committee. His ancestors have been settled in Manora for two centuries.
Irfan told an interesting fact that the tiles used on floor and walls of Shafi Jamia Masjid and Varun Dev Mandir are the same. These tiles were ordered from Japan together for both the religious places. Sham Sunder Das also confirmed this.
Shrine of Yusuf Shah Ghazi
Shrine of Yousuf Shah Ghazi has unique status in Manora, says Abdul Majeed, the caretaker of the shrine. He says Yousuf Shah Ghazi belongs to era of Muhammad bin Qasim, while Arif Hasan describes him as the brother of Abdullah Shah Ghazi. Majeed said that people of all religions are allowed to visit the shrine. The shrine is open day and night for everyone.
Gurdwara Sri Gurunanak
Sikh Sahib
Sardar Rajesh says that the Gurdwara Sri Guru Nanak Sikh Sahib built by his father in 1935 in Manora is under construction because its roof ollapsed. Rajesh smiles and explains that there is a mosque nearby, whose committee provided cement to the Gurdwara and stored the construction materials in the mosque premises during the rains.
Courtesy BBC Urdu
Published in The Express Tribune, August 22nd, 2022.
COMMENTS
Comments are moderated and generally will be posted if they are on-topic and not abusive.
For more information, please see our Comments FAQ