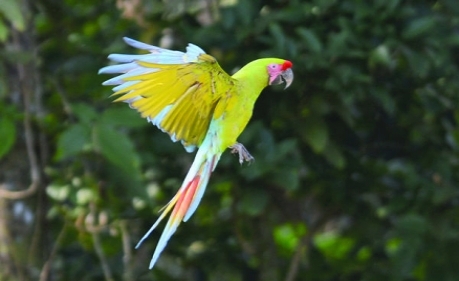 ---
KARACHI:
The Sindh Wildlife Department has seized dozens of parrots being smuggled from Punjab during an operation at the Karachi Toll Plaza.
Sindh Wildlife Conservator Javed Mahar said that 75 parrots, which were being smuggled from Bahawalpur, in Punjab, to Karachi, were recovered by a raiding party comprising Inspector Azeem Khan, Ejaz, Madan Lal and Lal Muhammad during checking at the Toll Plaza.
The raiding party was backed up by a team of Sindh Rangers, he further said, adding that one man was also taken into custody.
The wildlife conservator said that the parrots might have been netted in the wild as they do not appear to be raised at a farm. The parrots would be released into their natural habitat. The Punjab Wildlife Department would also be contacted with regard to the seizure.
Under Sections 22 and 79 of the Sindh Wildlife Act, the law enforcement and other agencies are empowered to play a role in the protection of wildlife, Javed Mahar said, adding that a case has been registered under the wildlife laws and further investigation is under way.
Published in The Express Tribune, August 21st, 2022.
COMMENTS
Comments are moderated and generally will be posted if they are on-topic and not abusive.
For more information, please see our Comments FAQ