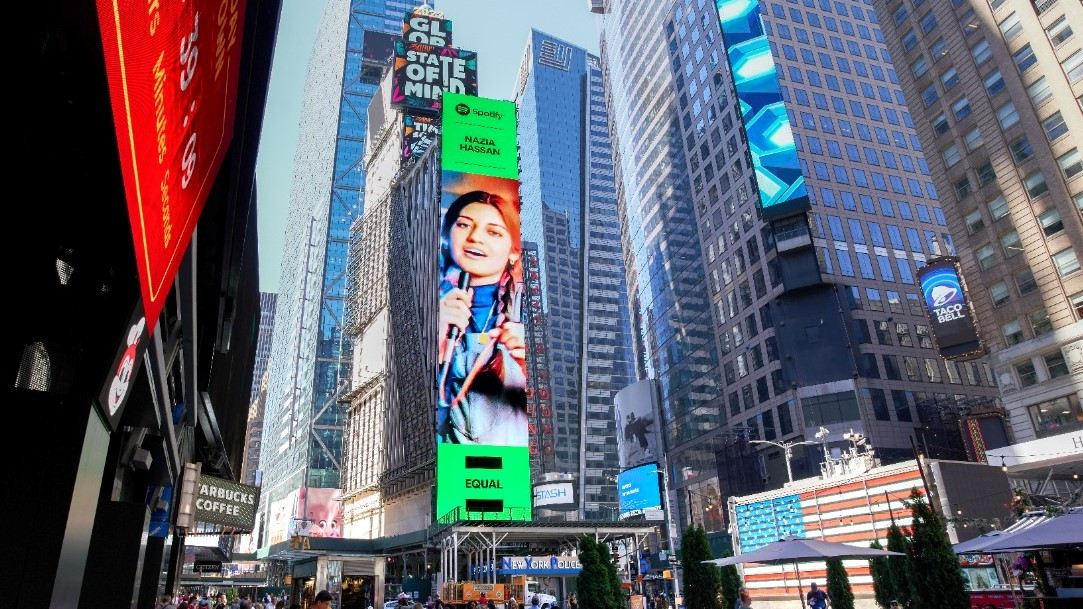 ---
The late Queen of Pop, Nazia Hassan, lit up New York Times Square on her 22nd death anniversary, courtesy of Spotify. Remembered as one of the most influential singers of all time, Nazia's ambassadorship was timed to coincide with her death as a means to pay tribute to the pop icon.
Revered as a legend, not just in Pakistan but across the globe for redefining the genre of pop music at a time when it was relatively unexplored, Nazia is amongst the rare league of artists who have etched an irreplaceable mark on people's hearts. As her voice and services to society continue to live on, the music streaming app is celebrating Nazia by featuring her on the cover of its Global EQUAL playlist.
Sharing his thoughts on this special occasion and remembering Nazia as a woman of substance, a press release quotes her brother Zoheb Hassan as saying, "My sister always considered herself as a social worker, and not really a musician. She worked with the UN for children and peace in the region. She also did a lot of charitable work as she wanted to help children and young people in need, and she did all of this very quietly."
The singer-songwriter and producer added, "She did not share this side of her life with anyone, including her own family. We only found out later after she had passed away. It was her greatness that she never spoke about it." Zoheb also took the opportunity to thank Spotify for making her "dear sister" the ambassador for EQUAL Pakistan and Global, as well as for "representing the female artists of the region."
Allanya and Amelia Hassan, nieces of Nazia, also expressed their gratitude. "She's always been a huge influence on us growing up, we love her music and she was an amazing person. To add to that, she and her music have been a huge motivation to us when it came to writing and singing ourselves and we are so grateful and proud to be a part of this legacy," they shared.
Singer-songwriter, lawyer and social activist, Nazia began her singing career in the 1980s as part of the duo Nazia and Zoheb. She and her brother have sold over 65 million records worldwide. Nazia made her singing debut with the song Aap Jaisa Koi, which appeared in the Indian film Qurbani in 1980. She won the Filmfare Award for Best Female Playback Singer at the age of 15 in 1981, becoming the first Pakistani to win the honour. She remains the youngest recipient of the award to date.
Her debut album Disco Deewane was released in 1981, and charted in fourteen countries worldwide, becoming the best-selling Asian pop record up at the time. The album included the English language single Dreamer Deewane which led her to be the first Pakistani singer to make it to the British charts.
Nazia followed up with the albums Boom Boom in 1982, part of which was used as the soundtrack of the film Star (1982), Young Tarang (1984), which featured the track Dum Dum Dede and Hotline (1987). Her last album, Camera Camera in 1992, was part of a campaign against drugs.
In a mere 15-year-long career, Nazia became one of Pakistan's most revered celebrities. She received Pakistan's Pride of Performance Award and due to her philanthropic activities, she was appointed by UNICEF as its cultural ambassador in 1991. She died in 2000 of lung cancer in London at the age of 35.
COMMENTS
Comments are moderated and generally will be posted if they are on-topic and not abusive.
For more information, please see our Comments FAQ