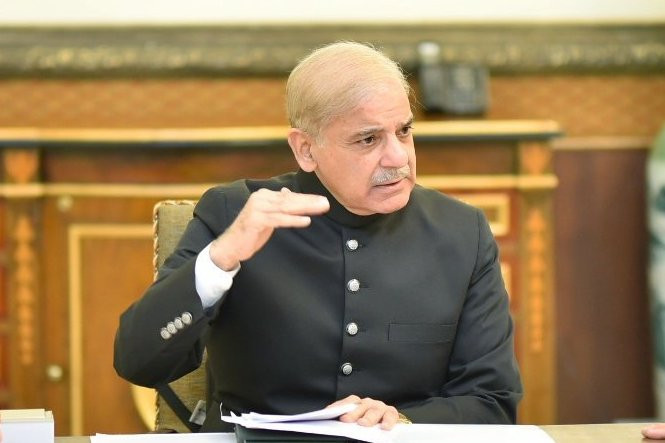 ---
Prime Minister Shehbaz Sharif has said that the world cannot afford another descent into an era of Cold War or bloc politics.
In an interview with Newsweek's Senior Foreign Policy Writer Tom O'Connor, the premier discussed Pakistan's relations with friendly and neighbouring countries and the current political situation of the country.
Commenting on the United States and China's ability to manage their relations and what a clash between the two powers could mean for Pakistan, the prime minister said: "While the Pakistan-China relationship is very special, Pakistan and the US have also maintained a longstanding historic bilateral relationship which covers all issues of mutual interest".
PM Shehbaz emphasised that Pakistan believed that "constructive engagement with all countries can promote peace and security as well as development and connectivity in the whole region" adding that conflict anywhere in the world had negative consequences, particularly for developing countries".
"The world can ill-afford descent into another era of Cold War or bloc politics. I believe polarization would have serious consequences for the global economy afflicted by the impacts of the Covid-19 pandemic and the Ukraine crisis," he said.
The premier reiterated that developing countries, like Pakistan, were "already suffering from external shocks to their socio-economic well-being, and do not desire aggravation of these challenges induced by major power rivalry".
He also highlighted that Pakistan's "considered view" was that "cooperation, not confrontation, should be the main driver of international relations".
In response to a question about whether Pakistan could play a similar role as it did in the past in the de-escalation of tensions between the two powers, PM Shehbaz stated that "Pakistan would be happy to play a positive role to bridge their differences, as we had done in the past".
"Pakistan's foreign policy is one of friendliness and goodwill towards all the nations of the world. Pakistan has traditionally maintained good relations with China and the United States. Historically, it was Pakistan that acted as a bridge in opening up the relationship between the United States and the Peoples' Republic of China." he said.
Read Shehbaz holds out an olive branch to Imran
Shehbaz further stated that bloc politics and a drift towards a cold war would "not produce any positive results, and in fact, would be counterproductive for growth and stability."
"Pakistan strongly believes that inter-state relations should be based on mutual respect and peaceful resolution of disputes by upholding the principles of the UN charter and international law."
Pakistan's political situation
Commenting on the current coalition government's plan to bring the nation together, the premier maintained that all political forces of the country -- except Imran Khan's Pakistan Tehreek-e-Insaf -- came together to form this "vastly representative government to take on the most urgent issues facing the people".
Referring to the votes cast in the previous elections of 2018, he stated that the political parties that are part of the coalition government "represented 70 per cent of the electorate" and were "truly national in nature".
According to the prime minister, the coalition government's topmost priority was "working on an agreed-upon national agenda of economic reform and stabilization".
He furthered that the incumbent government was also focusing on making governance efficient and service-oriented, besides improving Pakistan's relations with friendly countries based on mutual interests.
"The national agenda I mentioned has broad-based support because people understand the criticality of the issues that need to be dealt with".
Commenting on the instability in the country's political landscape, PM Shehbaz said Pakistan is a "young democracy" which needed time to "evolve and mature as a democratic polity".
He furthered that political evolution "always comes with a cost".
Read more Shehbaz sees strong relations with EU
"For democracy to function effectively, the political parties that come to power will have to improve their delivery. A political system can only be strengthened and strike deep roots when it is owned by the people at large, which in turn is possible through efficient public service delivery," he said.
He emphasised the need for "political parties to agree to the minimum rules of the game in which the welfare of the people remains paramount".
"The systematic problems can be fixed through engagement and consultations among all political stakeholders. This course may take time, but is the only way forward for the system to become strong, resilient and efficient," PM Shehbaz stated.
Afghanistan
Talking about the ongoing situation in Afghanistan, a year after the Taliban took control, PM Shehbaz said that the "initial priorities" for the international community had been avoidance of "protracted conflict, ensuring safe evacuation and (...) timely and effective humanitarian assistance to the Afghan people".
"Despite initial fears, these matters were handled in a relatively satisfactory manner through the continuous and practical engagement of the international community, the neighbours of Afghanistan and efforts of the Interim Afghan Government", he said.
In a message to the international community, the premier stated that they should "remain engaged and continue to assist the Interim Government in key social and economic areas", adding that Afghanistan's financial assets should be unfrozen to help build a sustainable economy.
He impressed upon the Interim Afghan Government the "importance of taking demonstrable actions on its commitments including those relating to inclusivity, respect for human rights of all Afghans, including girls' education, and effective counter-terrorism action".
India and IIOJK
With regards to Pakistan's tumultuous relations with India, PM Shehbaz stated that Islamabad desired good relations with all neighbours including India.
He maintained, however, that "India's illegal and unilateral actions of August 5, 2019, in IIOJK [Indian Illegally Occupied Jammu and Kashmir] were a huge setback to our efforts to build regional peace".
"While India is perpetuating its brutal military occupation of the valley through draconian laws, partisan judiciary and strong-arm tactics, including flagrant use of brute force and attempts to illegally change the demographic structure of the occupied territory, it is also bent on disrupting the stability in the region through its hegemonic ambitions," the prime minister said.
According to PM Shehbaz, Pakistan has always been ready to promote peace in the region on the basis of mutual respect and sovereign equality and has maintained that the core issue between India and Pakistan is the Jammu and Kashmir dispute, the resolution of which will open new avenues of cooperation.
Also read Pakistan to attend counter-terror drills in India
"Pakistan supports the building of an equitable, open and inclusive Asia-Pacific community in the spirit to promote peace, stability and prosperity," he said, adding that the creation of blocs in Asia-Pacific would only incite divisions and exacerbate the arms race, thus causing instability.
Terrorism in Pakistan
Responding to a question about the increase in terrorism-related incidents and the government's plan to counter it, the premier said that Pakistan strongly condemned terrorism in all its forms and manifestations.
"In the past two decades, Pakistan has suffered tremendous losses in men and material due to its frontline role in the global fight against terrorism", he stated, highlighting that Pakistan has been one of the "biggest victims of state-sponsored terrorism" that is planned, supported, and financed by hostile intelligence agencies".
According to Shehbaz, the main objective of these terrorist acts was to "destabilize Pakistan and undermine our economic development".
"Capturing of an active-duty spy, Kulbhushan Jadhav, from Balochistan, and his subsequent confessions, clearly indicate that a foreign hand is involved in spreading terrorism in Pakistan," he maintained.
He maintained that Pakistan's security forces had achieved remarkable success against terrorism, but the country remained a "victim of terrorism planned and financed from across our borders, as exemplified by the recent attacks".
"The terrorist attacks against Chinese citizens in Pakistan are aided and abetted by forces inimical to the Pakistan-China strategic partnership. Such forces do not wish to see development and prosperity in parts of Pakistan, including in Balochistan," he said.
The prime minister reiterated the government's resolve to root out terrorism.
"We are determined to give exemplary punishment to perpetrators and defeat their nefarious designs. We have also taken measures for enhanced safety and security of Chinese personnel, projects and institutions in Pakistan."
COMMENTS
Comments are moderated and generally will be posted if they are on-topic and not abusive.
For more information, please see our Comments FAQ