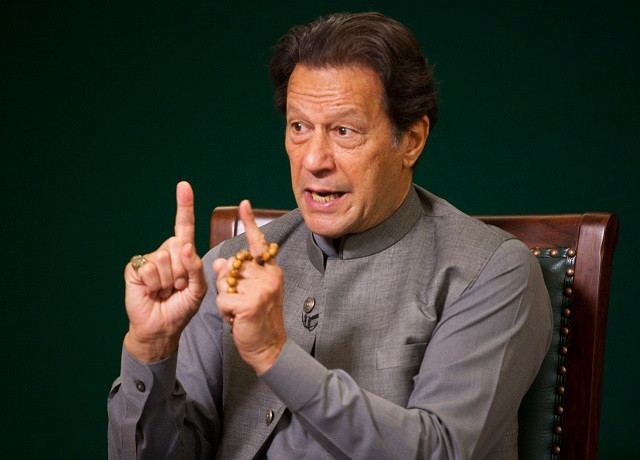 ---
ISLAMABAD:
In August 2014, PTI Chairman Imran Khan had stormed the federal capital's political heart – the Red Zone – and presented six demands to the then PML-N government. The PTI chairman, while leading his Azadi March, had announced that he was open to dialogue but it was not of much use if the then premier Nawaz Sharif did not step down.
The higher emphasis on Nawaz's resignation had blurred almost everything else and soon people found it difficult to even recall what were Imran's original six demands, let alone the roughly three-dozen demands of his "political cousins" – the Pakistan Awami Tehreek (PAT) protesters – in the 2014 sit-in.
In September 2014, the then finance minister Ishaq Dar had reportedly told a joint parliament session that five of the six demands -- re-elections in a few constituencies; electoral reforms, a non-political interim government formed with consensus; the resignation of all Election Commission of Pakistan (ECP) members and the formation of a new, empowered electoral watchdog; and action against those allegedly involved in rigging the 2013 elections -- were accepted with little modifications.
Read more: Govt says Imran cannot fool nation
Yet, Imran kept demanding Nawaz's resignation and continued with his marathon sit-it, ending only after Pakistan witnessed its 9/11 in the shape of the Army Public School Peshawar massacre in December 2014.
Back then, the government and the ECP were targeted and they still are. The newly-added targets in Imran's hard-hitting narrative are the establishment and US, since he was ousted from the office of the prime minister through a no-confidence vote in April.
Before fast forwarding to 2022, it may be recalled that Imran thrived on the wave of populism and continued to up the ante against his rival parties during these years, which was reciprocated by the other side, maybe with a little less intensity, but ultimately led to extreme polarisation in the country when it was celebrating its diamond jubilee.
A day after President Arif Alvi offered to mediate between Prime Minister Shehbaz Sharif and the former's party chief Imran, the premier has also extended an olive branch to the PTI chief.
Also read: Minus Imran Khan will result in minus all: Rashid
PM Shehbaz said he was renewing his offer of sitting together for a 'charter of economy' so that national interests could be protected and people could be given relief amid worsening economic woes.
Surprisingly, in between the prime minister and the president's offers, ex-PM Imran also briefly departed from his usual stance of labelling others as "crooks and looters" and extended the proverbial hand of friendship to the ruling coalition provided it announced the date for fresh elections – a condition that might render the whole idea of talks for addressing the core issues useless.
In background discussions, the members of the ruling alliance said it might be unacceptable as Imran's whole struggle since his ouster had been nothing but to force fresh elections.
Political analysts observed that Imran himself had to lead with example by sitting with the top leadership of the opponent parties for the betterment of the country instead of just setting conditions that appeared to be unacceptable for the other side.
They felt that Imran had set such conditions so that the other side was already on the back foot even before the talks began.
Being the premier, they recalled, Imran had addressed the then opposition leadership during the Covid-19 outbreak through video link and left even before they could say anything.
He had then resorted to his rhetoric that he would not shake hands with "corrupt leaders, looters and thieves" and avoided every opportunity that could lead to sitting together with the then opposition.
The PTI chief's habit of not sitting with the other side because they are "corrupt" and "looters" leaves little room for a comeback.
However, political analysts believed if he could make PML-Q leader Pervaiz Elahi the Punjab chief minister after calling him the "biggest bandit" of the province, then chances were that he could take a U-turn on his earlier stance against others for the sake of the country.
Visibly, for a long time, Imran has a habit of presenting his demands with certain conditions and for that, he can let several matters simply slide.
Political commentators believed that it was about time Imran practically took some steps instead of simply asking his party leaders to engage with opponents so that he could continue with his populist rhetoric in the public without facing any backlash from them over his years-old stance.
It is time to take the bold step, they said, and surprise everyone by doing what seemed impossible.
COMMENTS
Comments are moderated and generally will be posted if they are on-topic and not abusive.
For more information, please see our Comments FAQ