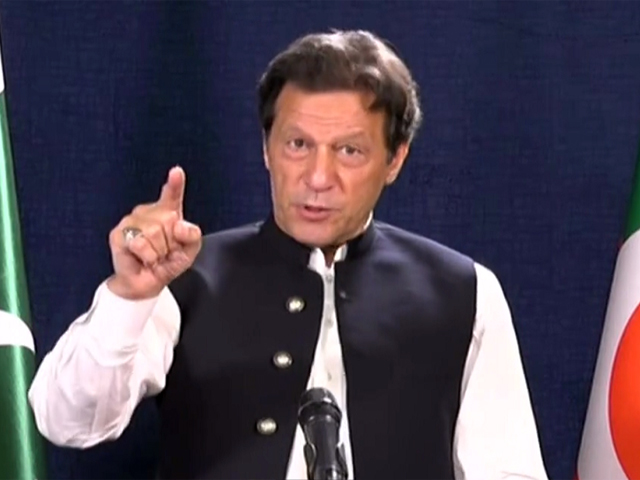 ---
Former prime minister and Pakistan Tehreek-e-Insaf chief Imran Khan on Thursday strongly condemned the arrest of the director news of a private TV channel and the wife of Shahbaz Gill's assistant.
Terming the arrests 'fascist illegal abductions', the PTI chairman asked the legal community if there were no "fundamental rights anymore"
Following the arrest of Shahbaz Gill on Saturday, the ICT police also raided his assistant's home and maintained that the arrest was 'legal'.
Strongly condemn fascist illegal abductions in shadows of late night of Aamad Yusuf & now Shahbaz Gill's assistant Izhaar's wife, who is now incarcerated in women police station. I want to ask our legal community are there no fundamental right anymore?

— Imran Khan (@ImranKhanPTI) August 11, 2022
Read: Court grants police two-day physical remand of Shahbaz Gill
Taking to his official Twitter handle, Imran maintained that the "imported government of cabal of crooks" is using fear and terror against the media and the people to "gain acceptance after being routed in Punjab".
He added that such actions are "further destabilising [the] country" and the only solution for the issues facing Pakistan are "fair and free elections".
Imported govt of cabal of crooks brought thru foreign backed regime change is using fear & terror in media & ppl to gain acceptance after being routed in Punjab elections.But all they are succeeding in doing is further destabilising country. Only solution is fair & free elections

— Imran Khan (@ImranKhanPTI) August 11, 2022
Gill was arrested for sedition and inciting the public against state institutions, the government had confirmed on earlier this week.
"An attempt was made to incite mutiny and sedition in the Pakistan Army ranks and files. This whole conspiracy is being investigated and the conspiratorial characters are being determined," said Interior Minister Rana Sanaullah.
COMMENTS
Comments are moderated and generally will be posted if they are on-topic and not abusive.
For more information, please see our Comments FAQ