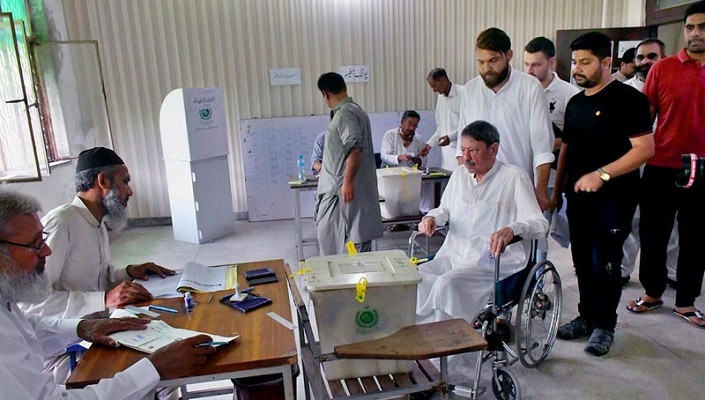 ---
KARACHI:
Over 20,000 voters registered on the Election Commission of Pakistan's (ECP) voters' list have been found to be aged between 100 and 142 years, many of them possibly eyewitness of the British colonial rule, the World War II and the creation of Pakistan.
The startling revelation emerged a day after the top election supervisory body decided to carry out a door-to-door re-verification of voters aged 100 and above.
The ECP will add the names falling into the above-hundred category to the voters' list after getting them verified in the door-to-door campaign. The process will continue until August 13.
According to the current data, out of a total of 20,350 voters found to be aged above 100, 11,760 have been identified as female while 8,590 are male. In Sindh, over 8,633 centenarian voters belong to Karachi, including 4,301 females and 4332 males.
However, District Central of Karachi stood out with the highest number of elderly voters with 1065 females and 1135 males. In areas such as District Central, West, East and Korangi, male voters living for more than 100 years outnumber female voters – unlike all other districts of the province where the elderly female voters outnumber their male age-fellows.
Meanwhile, Tando Muhammad Khan has the lowest number at 211, comprising 149 female and 62 male voters.
Interestingly, the oldest woman voter in Sindh is 142 years old from Mirpur Khas, whereas four out of ten elderly voters of 140 years are from Tharparkar, three from Badin, and one each from Ghotki, Larkana and Kemari. There are no voters aged 125, 132, 133 and 141 years in the province.
If the voter lists are declared to be correct, then these elderly voters of Sindh could be safely presumed to be eyewitnesses of the British rule, the Second World War, the struggle for Pakistan and its establishment as well as all the elections of the country.
Also read: ECP to re-verify voters aged above 100
However, in order to remove the suspicions about the veracity of this data, the Election Commission of Pakistan has ordered its field teams to verify the voters so that the final election lists expected to be published this month can be made transparent and error-free.
According to the available ECP data, the number of female voters aged 100 is 1,580 and the number of male voters is 1,347 in Sindh. Similarly, a total of 2,527 voters are aged 101 years, of which 1,359 are female and 1,168 are male.
A total number of 3,128 voters are aged 102 years, of which 1,837 are females and 1291 are male. The number of voters aged 103 years is 2,463, out of which 1358 happen to be female and 1105 are male. Out of 2,634 voters aged 104 years, 1561 are women and 1,073 are men.
Likewise, a total number of 1,338 voters are of 105 years in the province, including 811 women and 527 men. A total of 1409 voters are aged 106 years, including 845 females and 564 males. Among the 1,048 voters aged 107 years, 610 are women and 438 are men.
The number of voters aged 108 years is 1,319, of which 826 are female and 493 are male. The total number of voters aged 109 years is 806 with 498 female and 308 male voters. The number of voters aged 110 years is 352 out of which 217 are women and 135 are men.
The total number of 111-year-old voters is 75, which comprises 52 female and 23 male voters. Similarly, around 51 voters – 37 women and 14 men – were found to be 112 years old.
Those aged 113 years total 26 with 18 female and 8 male voters. Among the 54 voters 114 years, 36 are women and 18 are men. Those aged 115 years include 17 female and 4 male voters.
Similarly, the number of voters aged 116 is 23 out of which 15 are women and 8 are men. The voters aged 117 years include 13 women and 7 men. Among the 11 voters of 118 years, there are 7 women and 4 men. There are 11 female voters and 2 male voters aged 119 in the province, and seven voters aged 120 years, from which three are women and four are men.
Those aged 121 years are five including one male voter. Those aged 122 years include 11 women and 26 men. There is only one male elderly voter of 123 years in the province. There is no voter of 125 years while there are only two women voters of 126 years.
However, in Sindh, there is no voter of 141 years while in Mirpurkhas only one female voter of 142 years is registered.
COMMENTS
Comments are moderated and generally will be posted if they are on-topic and not abusive.
For more information, please see our Comments FAQ