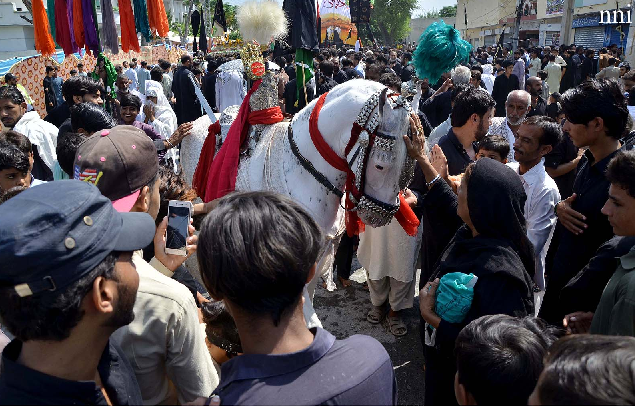 ---
Strict security measures were taken across the country as mourners observe 9th of Muharram with due solemnity and sanctity in memory of the seventh-century martyrdom of Hazrat Imam Hussain (RA), the grandson of Prophet Muhammad (PBUH).
Processions were taken out on Monday in all small and large cities across the country. Meanwhile, the government had deployed police, Rangers and army personnel as part of security measures across the country, especially in sensitive areas.
Mobile networks remained suspended in some areas across the country and internet service was also disrupted in sensitive areas to ensure foolproof security as the country has seen a raft of attacks at imambargahs and processions in the past. Further, a ban on pillion riding has also been imposed.
Read Over 175k policemen to perform Muharram duty
To contain the crowds, the administration had blocked the roads by erecting containers and other obstacles, including barbed wire on the routes of the processions, while sealing the central areas from all sides. The visitors were only allowed to enter after passing through the walk-through gates.
Islamabad
According to sources, the main procession of the 9th of Muharram in the federal capital left from imambargah Imambargah Asna Ashri G6/2 and ended on the same location.
Details regarding the suspension of mobile phone service were issued by the Islamabad administration, according to which, on 9th and 10th of Muharram, services in the areas of G6, G7, G8 and G9 will remain suspended from 9am till midnight. While in I10 and surrounding areas mobile phone services remained closed from 10am to 6pm today and will remain suspended from 10am to 4pm on 10th of Muharram. Furthermore, on 11th Muharram, mobile phone service will be intercepted from 9am to 10pm in the areas of Bari Imam.
Meanwhile, alternative routes had been announced for Muharram processions in the federal capital. In this regard, maps have also been released on social networking websites.
Karachi
According to Express News, the main procession in Karachi left from Nishtar Park at 1pm, which passed through MA Jinnah Road, Saddar's Empress Market and Tibet Centre and ended at Imambargah Hussainiya Iraniyan in Kharadar.
Lahore
The main procession in the provincial capital of Punjab started from Islampura's Pandu Street and passed through the designated routes to end back at its starting point.
Peshawar
The main procession in Peshawar began from Imam Bargah Hussainiya Hall and ended later in the day.
Quetta
In Quetta, the main procession took place from Mehakngi Road.
COMMENTS
Comments are moderated and generally will be posted if they are on-topic and not abusive.
For more information, please see our Comments FAQ