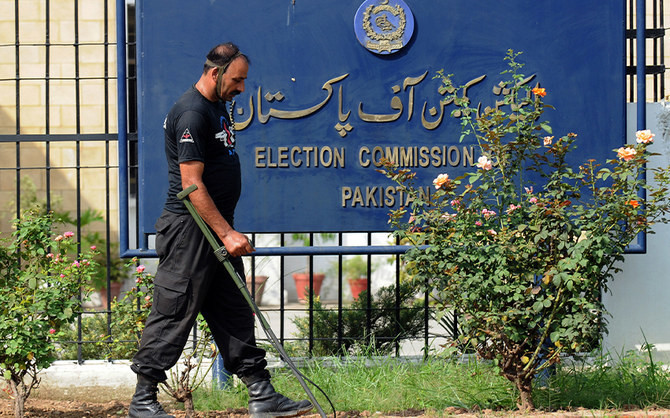 ---
ISLAMABAD:
Responding to criticism that two judgments were given in haste in the prohibited funding case, the Election Commission of Pakistan (ECP) spokesperson on Wednesday maintained that propaganda was being carried out, clarifying that only one verdict was announced which bears signature of the authority concerned on each page.
Meanwhile, the former ruling party has decided to constitute a four-member legal team to challenge the electoral body's decision.
On Tuesday, the election supervisor issued two pdf versions of the funding case judgment – first one comprising 68 pages – second one 70 pages.
The ECP, in the second version, stated that the judgment would be sent to the federal government.
The second version was released almost half an hour after the release of the first one.
PTI senior leader Fawad Chaudhry was quick to take to Twitter, stating that the election supervisor had issued two judgments on the funding case.
Read Sword of Damocles falls on Imran's PTI
The ECP spokesperson noted that misleading and false information was being spread by a few individuals that the commission had announced two verdicts in the case.
Expressing astonishment, he said the case continued for eight years but still a few people said the verdict was announced in haste.
"This propaganda has nothing to do with reality. The commission has given one decision which bears signature [of the authority concerned] on each page and was released on the [ECP's] official website."
On the other hand, the PTI has formed a four-member legal team led by former attorney general Anwar Mansoor Khan to challenge the ECP decision. Other members of the team include Barrister Ali Zafar, Shah Khawar and Faisal Chaudhry.
The PTI legal team will prepare an appeal on the ECP's decision and seek party chairman Imran Khan's approval.
The ECP on Tuesday ruled that the former ruling party did indeed receive prohibited funding and issued a notice to the party asking why the funds should not be confiscated.
The case which had been filed by founding but disgruntled PTI member Akbar S Babar had been pending since November 14, 2014.
COMMENTS
Comments are moderated and generally will be posted if they are on-topic and not abusive.
For more information, please see our Comments FAQ