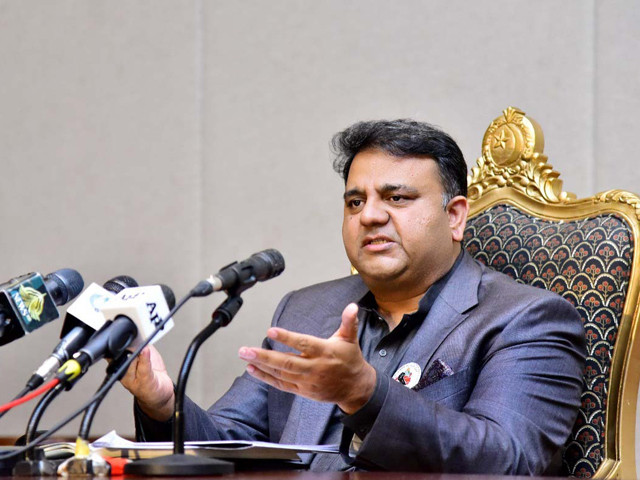 ---
ISLAMABAD:
Pakistan Tehreek-e-Insaf (PTI) leader Fawad Chaudhry claimed on Wednesday that the verdict in the prohibited funding case was changed upon the request of the law minister.
Addressing a news conference in Islamabad, the former federal minister of information touched upon the Election Commission of Pakistan's (ECP) verdict, claiming the government was overjoyed with the outcome.
In an attempt to take a jibe at the coalition government, the PTI leader said that the, "PDM [Pakistan Democratic Movement] held 12 press conferences yesterday and are holding them since this morning as well."
He further said that the Chief Election Commissioner Sikandar Sultan Raja delivered the judgement under urgency, as requested by the PDM leaders in the meeting held prior to the verdict.
The PTI leader went on to question how the chief election commissioner was authorised to have meetings amidst a pending case.
"The PTI will protest against this tomorrow. The ECP has no right to send references to the government," he said, adding that the verdict was altered upon the request of the law minister.
Fawad also shared that a reference has been filed against the chief election commissioner and the Sindh members, as he questioned how they were allowed to sign the verdict.
Read PTI directly benefited from foreign funding: FT
"We will challenge this decision. The PTI and Imran Khan cannot be barred," he added.
PTI senior leader Fawad Chaudhry offered an explanation for the 16 party accounts that the electoral watchdog's verdict yesterday termed as illegal and undeclared.
Chaudhry said that "subsidiary accounts were opened under party leaders' names" ahead of elections and were therefore "declared".
"The accounting formula that accountants follow is that they don't do double counting," he said, claiming that the 16 accounts were, in fact, subsidiary and had they been included in then, "it would double the count".
"The amount that comes into the main account is declared," he explained, "accountants don't count the amount in subsidiary accounts".
A day earlier, the ECP announced its long-awaited ruling in PTI's prohibited funding case, unanimously ruling that the party did receive illegal funding. A notice was also issued to the party asking why the funds should not be confiscated.
In its written order, the ECP said the political party received millions of dollars in illegal funds from foreign countries, including the United States, United Arab Emirates, UK and Australia.
"The office is also directed to initiate any other action under the law, in light of this order of the Commission," said the 68-page judgment - a copy of which is available with The Express Tribune.
COMMENTS
Comments are moderated and generally will be posted if they are on-topic and not abusive.
For more information, please see our Comments FAQ