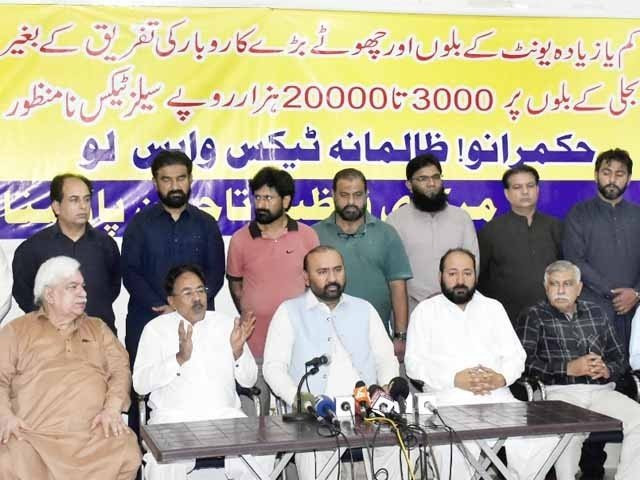 ---
ISLAMABAD:
Traders on Monday announced a nationwide strike against the imposition of sales tax on electricity bills, claiming that they would not pay the new bills.
Speaking to the media, Markazi Tanzeem Tajiran Pakistan (MTTP) President Muhammad Kashif Chaudhary and others said taxes have been added on electricity bills ranging from Rs3,000-20,000, which came in addition to commercial bills without distinguishing between closed shops and zero-meter reading.
He maintained that traders were already paying advance tax, fuel price adjustment and other taxes.
Chaudhry added that if the tax on electricity bills was not withdrawn, the traders would go on a complete "shutter down" strike from Karachi to Khyber-Pakhtunkhwa on August 17, adding that if their demands were not accepted, the strike would be extended further.
Read Pricy power agitates traders
He also said that electricity prices should have been reduced, however, as the cost of electricity increases, so do taxes.
"The small businessmen of Pakistan cannot afford to pay the bills. We repeatedly requested the government to abolish this tax, but the finance minister did not talk to our representative before implementing this tax".
Rejecting the government's actions on the International Monetary Fund (IMF) guidelines, Kashif said that traders across Pakistan were currently protesting on the streets.
COMMENTS
Comments are moderated and generally will be posted if they are on-topic and not abusive.
For more information, please see our Comments FAQ