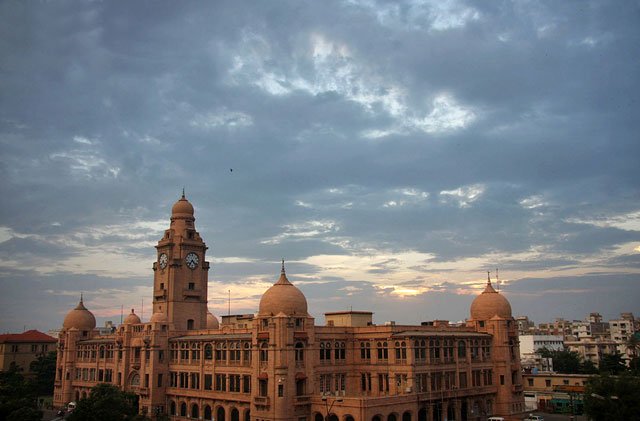 ---
KARACHI:
The Karachi Metropolitan Corporation (KMC) has once again begun removing Conocarpus trees from around the city and replacing them with local, environmentally friendly varieties. In the past, there have been many campaigns for and against the exotic Conocarpus, which is often blamed for contributing towards hot weather conditions, but there is no scientific evidence for such. However, the tree, an alien species, is known to cause various other ecological problems and remain unsuitable for urban life.
According to KMC's Director General Parks Junaid Ullah, Conocarpuses have been replaced with local trees on numerous locations along the extensive Sharea Faisal Road. "The rest of the Conocarpuses will also be removed from the city, as well as from several of the city's parks. Neem plants have been planted recently at Bagh Ibn-e-Qasim in Clifton Karachi. We had laid down some seeds before monsoon, but will plant and will plant two to three-foot tall neem plants there in the second phase," he told.
As opposed to the alien Conocarpus, Neem is an indigenous shade tree that is capable of existing in harmony with the urban life. The tree also produces a popular herb, widely used in medicines and for skin treatment, making it a useful plant.
The planting of Neem seeds in Bagh Ibn-e-Qasim was started with the help of a community-run forum called the Tree Plantation Task Force, which includes doctors, lawyers, engineers, environmentalists, and others. Barrister Talal Wasif, Barrister Aamir Khoso, Barrister Munir Iqbal, and Dr Murtaza Khoro, who has been at the helm of various afforestation campaigns across Sindh, are among some of the forum's more notable members. "Environmentally friendly trees are being planted throughout the province, including Karachi, with the help of the federal government's Green Pakistan initiative, in which regard we have the complete support of Green Pakistan Program Sindh Project Coordinator Riaz Ahmed Wagan," confirmed Khoro.
Speaking on the matter, local environmentalist Nasir Panoor was of the opinion that the Conocarpus is not an inherently evil species. "It's just is a non-native tree that we are better off replacing with eco-friendlier alternatives.
These could include local fruit trees like plum and Sharifa, shade trees like Neem, Banyan and Pipul or even decorative flowering varieties like Cassia Fistula and Ponciana Regia, that would be better suited for our city's environment," he told The Express Tribune.
Published in The Express Tribune, July 31st, 2022.
COMMENTS
Comments are moderated and generally will be posted if they are on-topic and not abusive.
For more information, please see our Comments FAQ