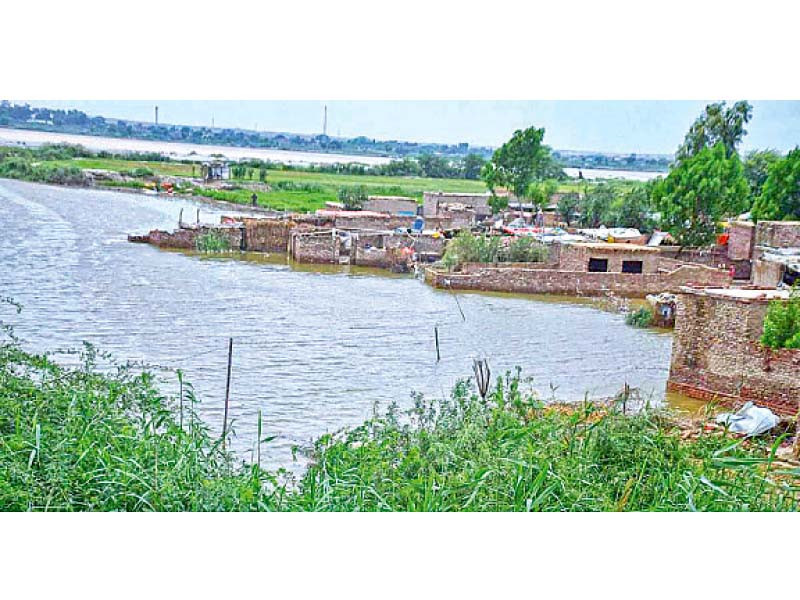 ---
ISLAMABAD:
The Foreign Office has expressed concerned over the release of water by India into the already flooded rivers of Pakistan, saying that the practice under these circumstances has been a "recurrent" problem.
"I think we will have to check, as what you are referring to is very recent, so need to check with our Indus Waters Commission whether such decision to release water or the flood data was shared by the Indian side in a timely manner or not," Foreign Office spokesperson Asim Iftikhar told reporters here at a weekly news briefing.
Torrential monsoon rains have caused havoc in many parts of Pakistan with over 350 deaths and damage to property and livestock. In the midst of natural catastrophe, it was reported that India released 300,000 cusecs of water downstream into the already flooded rivers of Pakistan.
"Regarding the floods, this is an unfortunate situation and that's why you would have seen a lot of focus and attention being paid to this matter, led by the prime minister himself, the issuance of directives to provide all possible assistance and to take all possible actions to tackle the situation," the spokesperson said.
Meanwhile, the spokesperson said Pakistan remained deeply concerned over the deteriorating health of Hurriyat leader Muhammad Yasin Malik. He continues to suffer for his legitimate political resistance to India's illegal occupation of IIOJK.
"We reject this judicial persecution and demand his immediate release.
"The inhuman incarceration of Yasin Malik, his sham trials under fabricated cases, the fallacious conviction and the malfeasant attempts at tarnishing the legitimate struggle of the Kashmiris for their right to self-determination only further confirm India's known credentials as a serial violator of human rights and usurper of fundamental freedoms of the Kashmiri people."
Pakistan called upon the Indian government to refrain from victimising the true representatives of the Kashmiri people by way of inhuman and illegal detentions and implications through sham trials in baseless and fictitious cases.
Pakistan once again urged the international community to take cognisance of India's inhuman and illegal detention and treatment of Malik and of other political leaders, and to ensure that the Kashmiri people can exercise their right to self-determination as promised to them by the UN and the international community.
"More than 1.5 billion people of this region deserve to see the dawn of peace and prosperity - something that has been held hostage to India's hostile agenda, hegemonistic designs and systematic violations of human rights in IIOJK."
About the visit of Pakistani Ulema to Kabul, Iftikhar said Ulema of Pakistan and Afghanistan "have longstanding relations due to our shared history, religion, geography, cultures and people-to-people contacts".
"In this context, a delegation of Pakistani Ulema led by Allama Taqi Usmani and including many leading scholars was visiting Afghanistan. They had meetings with the interim prime minister of Afghanistan, cabinet members and leading Ulema from Afghanistan," he said.
They discussed strengthening peace and stability and good relations between the two countries.
"I understand this was a very good visit, and well received in Afghanistan, as is evident from the kind of interactions and meetings that have taken place. So, I would say that this has resulted in very positive engagement between the two sides," Asim added.
COMMENTS
Comments are moderated and generally will be posted if they are on-topic and not abusive.
For more information, please see our Comments FAQ