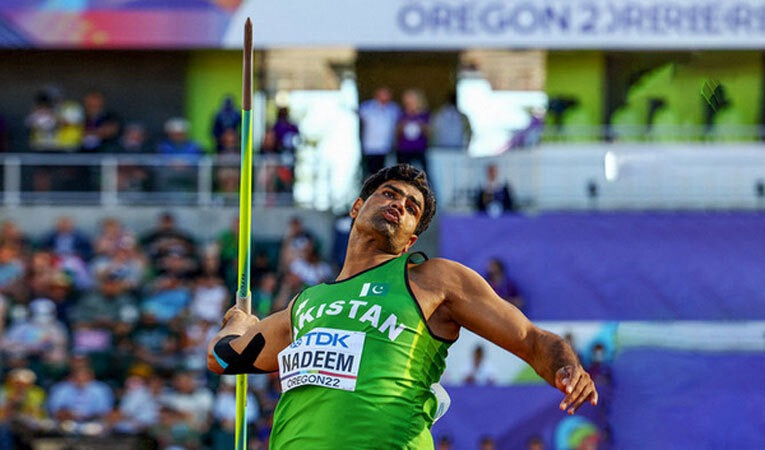 ---
KARACHI:
"I will need to get a surgery for my elbow. I have waited an entire year just because of the injury, but I feel it is my duty to perform at the Commonwealth Games now," Olympian javelin thrower Arshad Nadeem reflects back on an eventful week in which he became the first Pakistani to reach the World Athletics Championship final and finished fifth despite the drawbacks.
The 25-year-old has been patience and optimism personified as he had to battle through a long-standing elbow injury in his playing hand that he picked during the preparations of the Tokyo Olympics. He played and finished fifth in Tokyo as well as putting Pakistan on the map when it came to athletics.
Arshad had to fight for his passion and for pursuing a career in athletics from the get go. He was a young aspiring cricketer in the village near Mian Channu, Khanewal but bravely switched to athletics and went on to break the barriers for Pakistan on the international stage. He became the first athlete in more than two decades to win an Asian Games medal (bronze) in 2018. He then qualified directly to Olympics at the South Asian Games in Nepal, later gave Pakistan their best-ever javelin finish at Olympics.
"We have done an MRI and the surgery is required. I knew that I was struggling at the World Athletics Championships as well," Arshad told The Express Tribune. "I feel I have a bit of an issue in my knee too. The first fight was to just qualify for the final.
"During the qualifying round in the championships, I was not sure. I was pushing to just make it through to the top 12. I had faith that I could. I was a little shaken in the first two attempts during the qualifier, but then I gained some confidence and I thought I could do it. I did better than I thought I could."
Arshad has been up against his own body for this entire year.
He said he missed out most of the season because he wanted to make sure that he performed at the World Championships and then at the Commonwealth Games, a duty for his country and two important events for himself.
The wait has not been easy.
But at the World Championships final, where he was even asking the crowd to cheer for him before every attempt, signalling to clap, was about exceeding his own expectations and limits. He threw an impressive 86.16m in the final on July 23 and qualified to the final with an 82.05m on July 21.
"In the final I was very careful. My first throw wasn't counted and the pressure was on. I knew that four people will get eliminated, so I clung on to the last eight because of my third throw. I was hoping for the medal at that point, I thought I had a chance and then came that 86.16m throw which was something I did not expect, because I could feel my injury escalating.
"I just remember keeping myself alive in the competition during the final."
Arshad remembers that his fellow competitors, Grenada's Anderson Peters and Olympics gold medalist Neeraj Chopra, both congratulated him after his throw.
Peter finished the Championships with a gold medal and Neeraj finished with a silver, but Arshad is grateful for the support from both.
"They both congratulated me right there after I had that 86.16m throw. They were both supportive that I had a huge throw even with the injury that I have been carrying," said Arshad.
The youngster who is also the father of two young children feels that his passion is ignited each time he feels he has made the country proud and when his peers support him.
"I do get motivation when my fellow javelin throwers like Neeraj and Anderson show support and I do feel that these little things help me get ahead as well," said Arshad.
Arshad recorded his third best career throw at the World Championships. His top throws have been 86.38m in Mashad, Iran in 2021 and 86.29m at the South Asian Games 2019.
The performance led to celebrations at home in Mian Chunnu too and Arshad recalled: "My family was just shocked as they saw me compete and finish among the top throwers in the world. They were happy for me. They didn't think that I would be able to perform this well either."
Finishing in top five with incomplete training
Arshad feels that he could have hit the 90m mark if the injury was not in play. He added that the training was partly incomplete because of the elbow injury.
"I could've thrown 90m at the World Championships and won the medal, but I know that I didn't have complete training because of the injury," said Arshad. He trained in South Africa with Terseus Liebenberg for two months and then received the training from Salman Butt in Lahore under Liebenberg's directions.
"I learnt a lot during the training, but it was still about recovery and it was not a complete training in that aspect. I feel this has affected my performance greatly," said Arshad.
Carry on with momentum
Arshad believes that being at the Commonwealth Games and then Islamic Solidarity Games is meaningful to him and he has waited for the World Championships, and the two games to align for him to do his best.
"I can't go for the surgery right now before playing these events. I just couldn't miss them," said Arshad.
He has a braver approach to his injury now.
"Injury is a part of the sport. I feel I have played other competitions with one injury or another. I can't be scared, but I want to be careful.
"I am staying at Dr Ali Bajwa's house where he is treating me. My goal is to have a good finish at the Commonwealth Games. I am not looking at the other athletes at all. I'm focused on what I can do and how much I can push."
Arshad also feels he can see through these events gracefully.
"While other things are happening and I do have an injury too, I know I am mentally strong to overcome these obstacles," said Arshad.
Struggle without a coach
Arshad competed in the World Athletics Championships without his coach and now he will be doing the same at the Commonwealth Games in Birmingham.
While the Athletics Federation of Pakistan blamed the Pakistan Olympic Association and the latter denied the allegation of denying the right to take personal coach for Arshad, at the end of the day it is his performance that will get affected.
"Performance does get affected by not having a coach. It makes things difficult. Doing everything without a coach isn't ideal," said Arshad.
Arshad said he learned from Liebenberg and tried to deal with his knee and elbow injury in South Africa. He also loved the facilities available there.
For now, he will be focusing on showing his spirit and a good game at the Commonwealth Games as his event's final will be on Sunday, August 7 and he will be travelling to Birmingham in a few days.
After recovering from the injury Arshad hopes to compete in the Diamond Leagues as well.
COMMENTS
Comments are moderated and generally will be posted if they are on-topic and not abusive.
For more information, please see our Comments FAQ