 ---
LAHORE:
The Pakistan Tehreek-e-Insaf (PTI) won the race for the coveted Punjab battlefield hands down on Sunday, clinching 15 provincial assembly seats out of the 20 up for grabs and dealing a stunning blow to the 13-party alliance led by the Pakistan Muslim League-Nawaz (PML-N) on its home turf.
According to unofficial and preliminary results, the ruling Pakistan Muslim League-Nawaz (PML-N) could only bag four seats, including Malik Asad Ali Khokhar and Fida Hussain from PP-168 Lahore and PP-237 Bhawalnagar, respectively.
Khokhar bagged 13,582 votes against PTI's Muhammad Nawaz Awan who collected 8,068 votes. Similarly, Hussain received 29,201 votes against PTI's Syed Aftab Raza, who mustered 13,242 votes in the contest.
In PP 273 Muzaffargarh, Muhammad Sabtain Raza also secured 52,631 votes and defeated PTI's Yasir Arfat Khan who garnered 46,903 votes. In PP 7 Rawalpindi, Raja Sagheer Ahmad secured 68,906 votes, narrowly edging past PTI's Muhammad Shabir Awan, who got 68,857 votes.
Syed Muhammad Rafi Uddin was the only independent candidate, who managed to secure a seat – PP-228 Lodhran – with a lead of 6,473 votes. PTI's Izzat Javed Khan was runner-up with 22,802 votes.
The rest was all PTI.
اللّٰہ کے کرم اور عوام کی محنت اور عمران خان پر عوامی اعتماد کی بدولت تحریک انصاف نے پنجاب کی 20 میں سے 15 نشستوں پر میدان مار لیا، ان تمام لوگوں کا شکریہ جنہوں نے حقیقی آزادی کی اس جہدوجہد میں تحریک انصاف کا ساتھ دیا! #ہوگئی_انصاف_کی_جیت pic.twitter.com/2f9w0gHYy5

— PTI (@PTIofficial) July 17, 2022
In PP-202 Sahiwal, Maj (retd) Ghulam Sarwar secured 60,804 votes – the highest in all 20 constituencies where elections were held – defeating PML-N's Malik Nauman Ahmed Langriyal, who secured 57,669 votes.
In PP-202 Sahiwal, Maj (retd) Ghulam Sarwar secured 60,804 votes – the highest in all 20 constituencies where elections were held – defeating PML-N's Malik Nauman Ahmed Langriyal, who secured 57,669 votes.
Similarly, PTI's Sardar Muhammad Saif Uddin won PP-288 Dera Ghazi Khan seat with biggest lead of 25,978 in all 20 constituencies. He secured 58,885 votes against PML-N's Abdul Qadir Khan who bagged 32,907 votes.
Muhammad Amir Iqbal Shah succeeded from PP-224 Lodhran, securing 57,464 votes against PML-N's Zawar Hussain Warriach who bagged 48,603 votes.
PTI Vice Chairman Shah Mahmood Qureshi's son, Makhdoom Zain Hussain Qureshi, also emerged victorious from PP-217 Multan by securing 46,963 votes. PML-N's Muhammad Salman emerged as runner-up with 40,104 votes.
I want to thank the people of Multan for standing by PTI when the odds were stacked against us.This isnt my victory,it's the peoples victory. You have the power to change Pakistan's destiny, don't ever forget that & dont every give up! Imran Khan's narrative has won. pic.twitter.com/krxjR5r2Pz

— Zain Hussain Qureshi (@ZainHQ) July 17, 2022
PTI's Malik Hassan Aslam Khan won from PP-83 Khushab by polling 46,412 votes. An independent candidate Muhammad Asif Malik secured 39,988 votes and emerged as a runner-up, pushing the ruling PML-N to the third place.
In PP-125 Jhang, PTI's Mian Muhammad Azam secured 41,680 votes and defeated PML-N's Faisal Hayat with a lead of 14,711. PTI's Mehar Muhammad Nawaz won PP-127 Jhang seat by securing 38,350 votes against the PML-N's Mehr Muhammad Aslam who garnered 24,172 votes.
PTI's Ali Afzal Sahi won PP-97 Faisalabad seat by securing 33,317 votes. He defeated PML-N's Muhammad Ajmal who collected 29,031 votes. PTI's Irfan Ullah Khan Niazi gained 32,523 votes and won PP-90 Bhakkar. PML-N's Saeed Akbar Khan got 26,506 votes in the contest.
Another PTI player, Khurram Shehzad Virk won PP-140 Sheikhupura. He collected 31,886 votes against PML-N's Mian Khalid Mehmood who garnered 20,176 votes.
PP-158 Lahore seat was bagged by PTI's Mian Muhammad Akram Usman who got 28,486 votes. PML-N's Rana Ahsan emerged as runner-up with 24,073 votes. PTI's Qaisar Abbas Khan secured 27,705 votes and bagged PP-282 Layyah. PML-N's candidate Muhammad Tahir Randhawa got 18,513 votes and became runner-up.
PTI's Muhammad Moazzam Ali Khan won PP-272 Muzaffargarh by securing 26,128 votes and defeated Syeda Zehra Basit Bukhari of the PML-N who got 21,711 votes.
As results coming in PTI is winning in atleast 15 seats. But it is very important for all our people on duty in all polling stations not to leave their posts till official results have been obtained from the Returning Officers.

— Imran Khan (@ImranKhanPTI) July 17, 2022
Shabir Ahmad also won PP-167 Lahore seat for the PTI by securing 25,590 votes. PTI's Nazir Ahmad Chohan who dissented from the party could manage to get 16,537 votes despite using all means.
PP-170 Lahore was also won by the PTI's Malik Zaheer Abbas who got 18,717 votes against PML-N's Muhammad Amin Zulqarnain who bagged 11,501 votes.
The PTI workers, supporters and voters poured onto the streets to celebrate the huge triumph. They gathered outside PTI Lahore office and brought out rallies in different parts of the provincial metropolis. They chanted slogans and danced on the beat of party anthems.
Earlier, the elections by and large remained peaceful with sporadic incidents of clashes between the activists and supporters of rival parties. At least one person died in Shiekhupura while several others were injured in sundry incidents.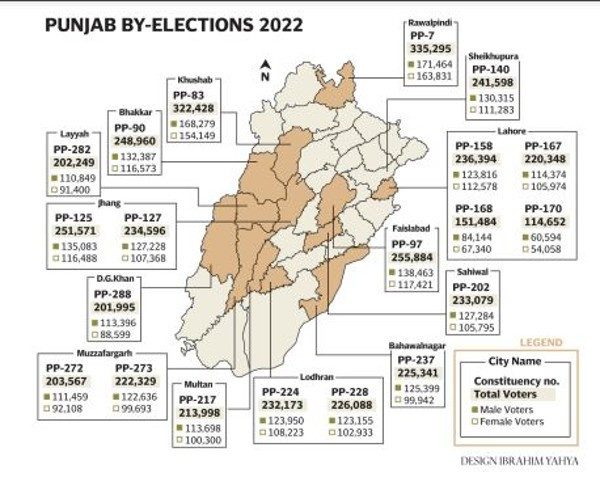 Contrary to the trend of all previous by-elections, a record turnout was witnessed in the polling, despite several complaints of anomalies in the voting lists. The record of previous by-elections indicates that normally 25-30% voters exercise their right to vote. However, in Sunday's by-polls over 40% voters cast their ballot.
The polling started at scheduled 8:00am and continued without break till 5:00pm. Great enthusiasm was seen among voters as a large number of people reached polling stations to cast their vote for their favourite candidates despite it being a weekend holiday.
COMMENTS
Comments are moderated and generally will be posted if they are on-topic and not abusive.
For more information, please see our Comments FAQ