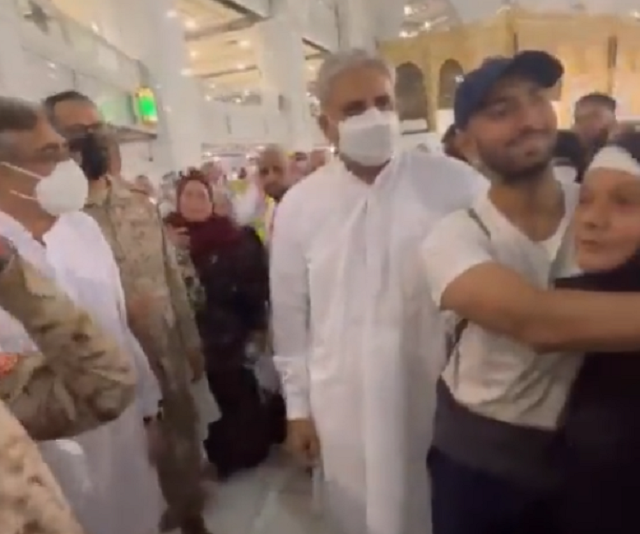 ---
Chief of Army Staff (COAS) General Qamar Javed Bajwa has performed Hajj, according to a short video that went viral on social media.
In the video, the army chief dressed in white shalwar kameez can be seen meeting Pakistani pilgrims and asking them to "pray for Pakistan".
As soon as the pilgrims spotted Gen Bajwa, they surrounded him and took selfies with him.
Prime Minister's Special Representative for Interfaith Harmony Hafiz Tahir Ashrafi also tweeted the video of the army chief with a caption: "The love and affection of the Muslims of Pakistan and the world for General Qamar Javed Bajwa, the Commander-in-Chief of the nation."
محترم المقام سپه سالار قوم جنرل قمر جاويد باجوه كےساته حرم مكة المكرمة مين پاكستان اور عالم اسلام كےمسلمانون كى محبت اور جذبات سپه سالار قوم نے پاكستان كے لے دعا کے لے كها pic.twitter.com/xAhTGWtG9v

— TahirMahmoodAshrafi حافظ محمد طاهراشرفى (@TahirAshrafi) July 11, 2022
He also lauded the Saudi government for making elaborate Hajj arrangements and optimum facilities provided to pilgrims.
Ashrafi, who also performed Hajj this year, said in a statement that the pilgrims hailing from across the world reached the Rami Al Jamarat in discipline and organised manners due to the security and Crowd Management System introduced by the Saudi government.
COMMENTS
Comments are moderated and generally will be posted if they are on-topic and not abusive.
For more information, please see our Comments FAQ