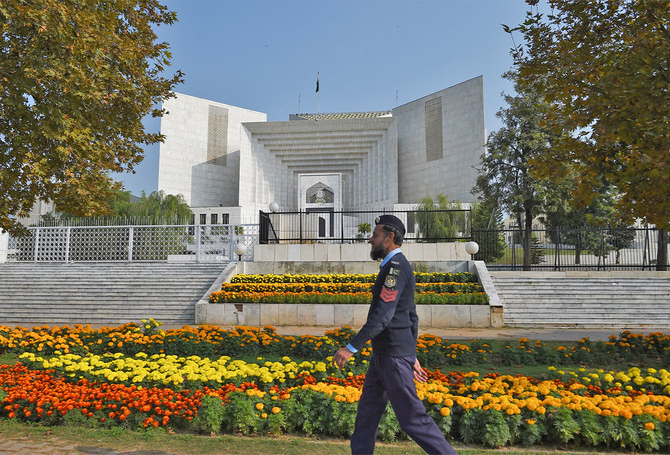 ---
ISLAMABAD:
The Supreme Court on Tuesday observed that urban authorities need to ensure that their development plans consider and support adaptation, climate resiliency and sustainability.
"Before putting up a proposal for amendment or modification in the Master Plan or a scheme, the urban development authorities need to seriously consider the climate change angle," an eight-page judgment authored by Justice Syed Mansoor Ali Shah said while hearing a petition against the Islamabad High Court order.
"Any conversion of residential neighbourhoods to commercial zones is likely to lead to adverse environmental consequences on account of increased human and vehicular traffic and activity, and should not be permitted without proper investigation, forethought and remedial measures to control the soaring thermal environment," it added.
The petitioner challenged the decision of the Board of Directors of the Capital Development Authority (CDA) to cancel its earlier order of commercialising the residential properties situated in front of the Industrial and Trading Centre, Sector G-9/4, Islamabad.
A division bench, headed by Justice Syed Mansoor Ali Shah, heard the matter. The order said that it is high time that our urban planners prioritise the climate factor in their development approaches to address the triple planetary crises of climate change, air pollution and loss of biodiversity.
The order said that effect of climate change on cities, affects its residents and their core fundamental rights to life, dignity and property guaranteed under articles 9, 14, 18 and 23 of the Constitution of the Islamic Republic of Pakistan, 1973.
"In an urban living, climate change can impair the quality of life of a person, offend his dignity and deprive him of his property or the right to fully enjoy his property. Incorporating adaptation, climate resilience and sustainability, in the policy decisions by the urban development authorities, are essential to actualise the fundamental rights of the people and therefore form an integral part of the fundamental human rights of the people of Pakistan.
Read Environmental profiling of Khyber Pakhtunkhwa ordered
"In the face of the grave existential threat of climate change, adaptation, climate resilience and sustainability assume the role of a constitutional necessity and of an overarching constitutional obligation."
The order said that the concept of "Right to the City" has become a common framework for articulating alternative visions of the city and making a host of demands on issues related to urban equity and social justice.
"It has also been used for making urban governance, planning, and budgeting more participative and inclusive. The Right to the City is interdependent to all recognised international human rights; and its conception is based on an integral view, which includes civil, political, economic, social, cultural and environmental rights enshrined in the International Human Rights Treaties."
The court said, "Our national response to climate change, inter alia, is to continuously evolve innovative and smart 'adaptation' strategies.
"Our adaptation to climate change strategy requires that Pakistan and its public institutions make climate-resilient policies and the rest of its decisions on sustainability.
"Our infrastructures must be strong enough to withstand climate change – heavy rains, floods, earthquakes and other extreme weather. Shutting eyes to the ominous signs of climate change will plunge us into a world that may not be able to sustain fundamental human values. It could affect our basic physical and larger social needs including harnessing and consuming energy, water and food as well as habitation, travelling and communication potentialities.
"It is doubtful that our early town planners were driven by climate considerations. However, climate must, in the wake of climate change, form a basic determinant of urban planning and design. Climate-resilient development in cities of all sizes is crucial for improving the well-being of people and increasing the life opportunities of future generations. Any change in the Master Plan to an urban scheme without taking account of the climate factor would be detrimental."
The order said that Pakistan fell amongst the most vulnerable countries and was seriously hit by climate change, even though it had negligible contribution towards greenhouse gases (GHGs).
"The National Climate Change Policy 2012 underlined the seriousness of this existential threat. Climate resilient development and adaptation was the focus of this policy document though as a responsible member of the global community due importance was also accorded to mitigation efforts."
However, after Paris Climate Accord 2015, Pakistan has updated its climate policy and the focus of the National Climate Change Policy 2021 is equally placed on adaptation and mitigation with the major emphasis on nature-based solutions. Such solutions include vegetal cover expansion, coastal resource management, and mangrove and natural reef ecosystem protection. Infrastructure-based solutions comprise climate-proofing infrastructure, including storm drainage systems, water supply and treatment plants, as well as the protection or relocation of energy or solid waste management facilities. Some coastal cities may also need to plan for infrastructure development, protection and/or relocation related to a rise in sea level.
Read more Climate change to be tackled with just Rs10b
"The necessity of planned urban development is accentuated in the vulnerable age of climate change. Climate change poses a series of interrelated challenges to the country's most densely populated places: its cities.
"Many cities depend on infrastructure, like water and sewage systems, roads, bridges, and power plants, that is aging and in need of repair or replacement. Rising sea levels, storm surges, heat waves, and extreme weather events will compound these issues, stressing or even overwhelming these essential services.
"Climate change and its impacts threaten the wellbeing of urban residents. Essential infrastructure systems such as water, energy supply, and transportation will increasingly be compromised by interrelated climate change impacts. The nation's economy, security, and culture all depend on the resilience of urban infrastructure systems. Direct and interacting effects of climate change will expose people who live in cities to multiple threats. Climate changes affect the built, natural, and social infrastructure of cities, from storm drains to urban waterways to the capacity of emergency responders."
The order said, "The CDA shall ensure to factor in adaptation, climate resiliency and sustainability into their plans, policies and decisions in order to protect the constitutional rights to life, dignity and property of the residents of Islamabad, in particular, and people of Pakistan, in general.
"Climate change increases the risk, frequency, and intensity of certain extreme events like intense heatwaves, heavy downpours, flooding from intense precipitation and coastal storm surges, and disease incidence related to temperature and precipitation changes. The vulnerability of urban dwellers multiplies when the effects of climate change interact with pre-existing urban stressors, such as deteriorating infrastructure, areas of intense poverty, and high population density."
COMMENTS
Comments are moderated and generally will be posted if they are on-topic and not abusive.
For more information, please see our Comments FAQ