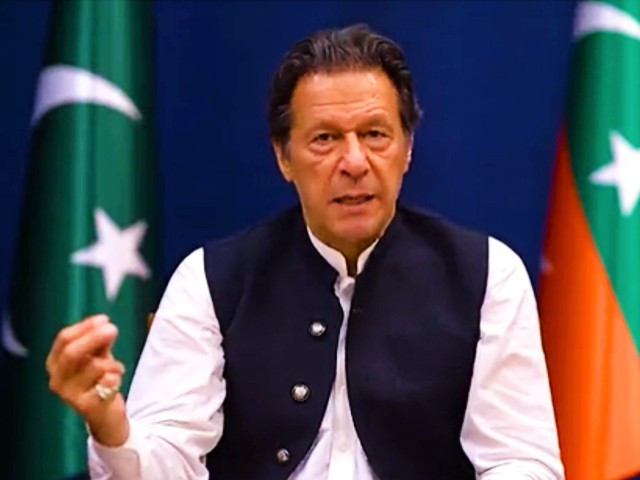 ---
KARACHI:
"If pushed against the wall, I'll unmask all the characters involved in the regime change conspiracy," says the ousted prime minister, Imran Khan, whose government, he claims, was toppled by the United States through its pawns on the Pakistani political chessboard.
Khan says he knows the role of each character involved in this conspiracy. "I've recorded a video, which I've kept away at a safe and secure place. If anything happens to me, then the video will be shared with the nation," he said while speaking live from his Bani Gala residence on Tuesday.
The nation continues to suffer crushing economic cost of Imported Govt brought in thru US regime change conspiracy at a time when our govt had stabilised the economy. Exports, which stagnated in previous PMLN Govt at $25 bn, crossed $30 bn for the first time this yr to $31.76 bn

— Imran Khan (@ImranKhanPTI) July 5, 2022
He claimed that he knew the conspirators and their abettors and how the entire regime change plot had been executed but he was keeping quiet because he didn't want to harm his country. "However, if we are pushed against the wall, intimidated and harassed, then I will be left with no option but to bring forth the truth for the nation to see and decide," he said.
Khan was removed from the office of prime minister through a vote of no-confidence moved by a political alliance cobbled up by the PML-N and the PPP to bring down the PTI government which had been aggressively pursuing financial corruption cases against its political foes.
Khan, however, claims that the no-trust move was orchestrated by the US which wanted to "punish" him for pursuing an independent foreign policy. For this reason, he calls the incumbent ruling set-up an "imported government" which lacks credibility, acceptability and legitimacy. The people who have been imposed on the country have billions of rupees financial corruption cases against them, Khan lamented.
On July 5, 1977, the country's first elected government was toppled through a military coup because the US was not happy with Zulfikar Ali Bhutto who wanted to pursue an independent foreign policy, he said. Khan, while drawing parallels, claimed that his government was also not acceptable to the US for the very same reason as he wanted to steer clear of "blocs' politics".
On the contrary, he claimed that the current self-serving rulers would not refrain from recognising Israel and compromising on the blood of Kashmiris to make friendship with India for vested interests because they have nothing to do with the ideology of Pakistan as their sole purpose to come to power is to mint money.
Also read: Imran says he forewarned about 'conspiracy' implications
He claimed that the PTI government was toppled when everything was moving quite smoothly and the economy was flourishing. "This cabal of crooks, which seized power by securing NRO-2, has opened floodgates of inflation," he said, adding that Pakistanis would reject these conspirators, if free, fair and transparent elections were held.
Khan has already alleged that the "umpires are siding" with his political rivals but still his party would emerge victorious. "The Punjab administration has left no stone unturned to ensure a PML-N victory, but the PTI would inflict a humiliating defeat on these crooks despite all odds," he added.
This was despite the sharp slow down after regime change conspiracy operationalised. In July '21-March '22, under PTI Govt exports grew 27%. In June under cabal of crooks export growth slowed to 5.8%. #امپورٹڈ_حکومت_نامنظور

— Imran Khan (@ImranKhanPTI) July 5, 2022
He asked the judiciary if the fundamental rights have been suspended in Pakistan or a martial law had been imposed. "I've never seen such fascism in Pakistan before," he added. He also called into question the neutrality of the judiciary. "Why it took the court two months to adjudicate the case regarding legitimacy of Hamza Shahbaz as the chief minister of Punjab," he asked. "For anything against us, the courts opened at night."
The former premier also denounced the attacks and harassment of journalists and social media activists who were speaking against the "imported regime". "This is the era of social media where every person has a voice through a mobile device, which could not be muzzled through intimidations and threats," he added.
The PTI chief said that journalists like Ayaz Amir, Imran Riaz Khan, Arshad Sharif and others could not be bought as they listen to the voice of their conscience. He claimed that the country was being deliberately driven towards anarchy. "The fascist regime has tried to spread fear among the people," he added while urging the people to "break the idol of fear because it is now or never".
COMMENTS
Comments are moderated and generally will be posted if they are on-topic and not abusive.
For more information, please see our Comments FAQ