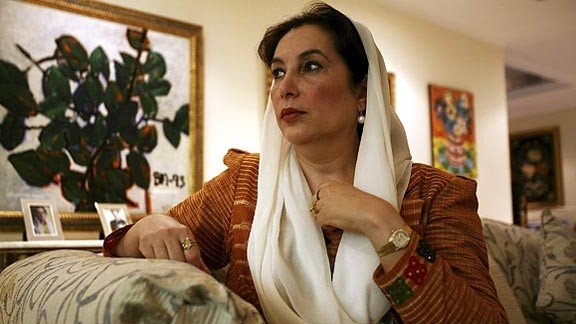 ---
RAWALPINDI:
The Rawalpindi administration has decided to build a monument in the Liaquat Bagh at the exact place where former prime minister of Pakistan Benazir Bhutto was assassinated 15 years ago.
It was decided in a meeting held at the Municipal Corporation Rawalpindi on Saturday. The meeting was chaired by Rawalpindi Commissioner and Administrator Municipal Corporation Noorul Amin Mengal.
The meeting was also attended by officers belonging to Rawalpindi Metropolitian Corporation (RMC), Water and Sanitation Agency (WASA),
Punjab Horticulture Authority (PHA) and district administration.
Since her assassination, despite repeated announcements and project's approval, the Pakistan People's Party (PPP) had failed to construct the monument and a memorial library at the site of the tragedy.
The commissioner directed the RMC officials to complete the design and preparation of the memorial as soon as possible for the construction of the monument.
Former Prime Minister Benazir Bhutto was assassinated on December 27, 2007 after addressing an election campaign rally at Liaquat Bagh.
However, despite the formation of PPP government in the federation and Sindh province in the 2008 elections, her memorial could not be erected at the place of her assassination.
The residents of Rawalpindi and PPP workers have been constantly demanding from the government that a memorial be erected in Liaquat Bagh in her memory.
All PPP central and provincial leaders continued to visit the site, but no progress was made in building a memorial. However, now that the PPP is in the centre and the Punjabi coalition government and the PPP has its own government in Sindh, the Punjab government has taken an important decision to build a memorial for which all expenses will be borne by the Punjab government.
The commissioner directed WASA MD Muhammad Tanveer to remove the out-dated vehicles, garbage, useless machinery and equipment of WASA from the former prime minister's assassination site and clear it completely. He also instructed the PHA officials to improve the condition of the parks.
The commissioner also directed PHA to improve the sanitation system in the parks, eliminate encroachments on the edges of the parks and ensure that the improvements afford a pleasant environment for visitors.
Published in The Express Tribune, July 3rd, 2022.
COMMENTS
Comments are moderated and generally will be posted if they are on-topic and not abusive.
For more information, please see our Comments FAQ