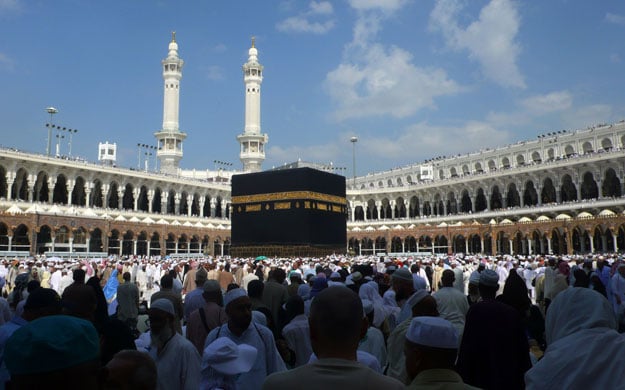 ---
The process of arrival of Hajj pilgrims from Madina to Makkah will be completed by Friday (today), Radio Pakistan reported.
The report quoted a media cell in Makkah as saying that over 16,900 pilgrims have arrived in Madina through direct flights from Pakistan from June 6 to 15 under the government Hajj scheme.
The cell informed that pilgrims, during their eight-day stay in the holy city of Madina, have been given ample opportunity to visit, and pay tribute and Salam to the Holy Roza-e-Rasool (PBUH) and offer Nawafil in Riyazhul Jannah and Masjid-e-Nabawi.
Read more: Hajj dream on hold
Direct flights from Pakistan to Makkah via Jeddah are also in progress and more than 30,000 Pakistani pilgrims have reached Hijjaz-e-Muqaddas to perform rituals under government and private Hajj schemes.
Meanwhile, Pakistan Hajj Mission in Makkah has doubled the shuttle service from Reehbakhs residential area to facilitate the pilgrims for easy reach to Haram.
The residential block of Reehbakhsh in Makkah is very close to Haram.
The report said that the pilgrims lauded the government and Ministry of Religious Affairs in particular for excellent Hajj arrangements.
On Thursday, Prime Minister Shehbaz Sharif thanked the Saudi leadership for the 'Road to Makkah' project, expressing his satisfaction over the facilitation of thousands of Pakistani pilgrims under this initiative.
Also read: PM thanks Saudi for 'Road to Makkah' project
The premier was talking to the project team led by Ambassador of Saudi Arabia to Pakistan Nawaf bin Saeed Ahmad Al-Malkiy.
PM Shehbaz reaffirmed that Pakistan and Saudi Arabia enjoy historic fraternal relations, which are marked by a common understanding on all issues of mutual interest.
He assured full cooperation and support to the Saudi team for making the `Road to Makkah' initiative a great success.
Thanking the PM for his assistance to the Saudi team for the effective implementation of the initiative, the Saudi ambassador expressed the desire to further strengthen bilateral cooperation between the two countries.
The 'Road to Makkah' is a Saudi initiative aimed at the completion of Saudi immigration and customs-related formalities before the departure of the pilgrims to perform Hajj at the Islamabad International Airport.
COMMENTS
Comments are moderated and generally will be posted if they are on-topic and not abusive.
For more information, please see our Comments FAQ