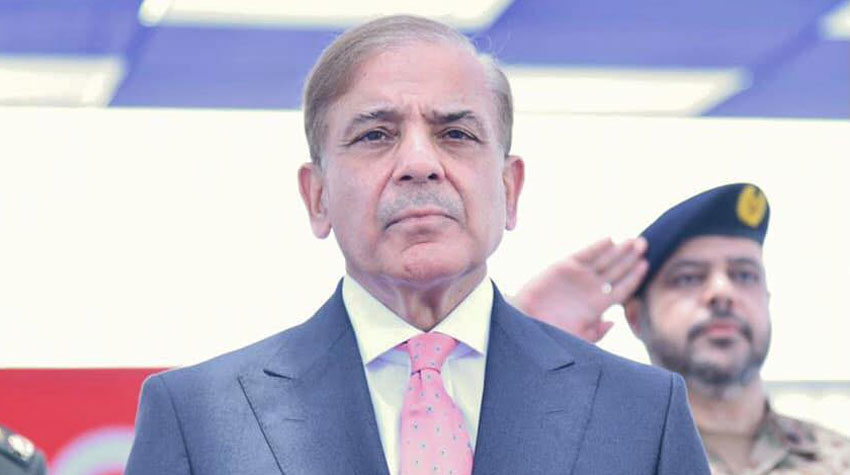 ---
ISLAMABAD:
As the country stands on the precipice of being removed from the global dirty money watchdog grey list, Prime Minister Shehbaz Sharif spent the day congratulating relevant officials and institutions for playing their part in meeting the FATF action plans, covering 34 items.
Prime Minister Shehbaz Sharif Saturday telephoned all the persons relevant to the success of Pakistan in meeting the conditions set by Financial Action Task Force (FATF) and congratulated them on the important success of Pakistan.
According to a statement shared by the PPP, who is part of the coalition government, PM Shehbaz telephoned Foreign Minister Bilawal Bhutto and congratulated the latter on the successful completion of the action plan assigned to the country, saying the entire team of the ministry of foreign affairs deserved an appreciation.
پاکستان پیپلزپارٹی کے چیئرمین اور وزیر خارجہ بلاول بھٹو زرداری کو وزیراعظم شہباز شریف کا فون

وزیرخارجہ بلاول بھٹو زرداری کو ایف اے ٹی ایف کی گرے لسٹ سے نکلنے کے اہداف کی تکمیل پر وزیراعظم شہباز شریف کی مبارک باد@BBhuttoZardari @CMShehbaz

— PPP (@MediaCellPPP) June 18, 2022
FM Bilawal pledged that he will continue to make all-out efforts to steer the country out of all challenges, it added.
وزارت خارجہ کی پوری ٹیم مبارک باد کی مستحق ہے، وزیرخارجہ بلاول بھٹو زرداری سے وزیراعظم شہباز شریف کا مکالمہ

پاکستان کے لئے اپنی تمام کاوشیں بروئے کار لاکر ملک کو ہر مشکل سے نکالنے کی جدوجہد کرتا رہوں گا، وزیرخارجہ بلاول بھٹو زرداری کا وزیراعظم شہباز شریف سے مکالمہ

— PPP (@MediaCellPPP) June 18, 2022
The premier also rang up Chief of Army Staff (COAS) General Qamar Javed Bajwa and congratulated him on the all-important achievement.
The PM also praised the army chief for establishing the core cell, in the General Headquarters (GHQ), "which steered the national effort and civil-military team which synergised implementation of action plan made it possible."
Moreover, the prime minister felicitated the entire civil and military leadership, and their respective team, which was part of the core cell, for putting efforts in that regard.
Also read: PM felicitates nation on FATF announcement
Meanwhile, talking to the army chief, the PM said that the nation was proud of every person who had worked for the success of Pakistan in achieving this milestone.
He also commended Finance Minister Miftah Ismail and State Minister for Foreign Affairs Hina Rabbani Khar and their respective teams for playing their important and key part.
PM Shehbaz also felicitated the nation and welcomed the announcement of the FATF that Pakistan had met all its conditions for exclusion from the grey list.
In a statement, he said, "Praise be to Allah, return of Pakistan to the white list is a big success of Pakistan."
He congratulated the government institutions, personalities and relevant team and said their joint efforts brought fruit.
COMMENTS
Comments are moderated and generally will be posted if they are on-topic and not abusive.
For more information, please see our Comments FAQ